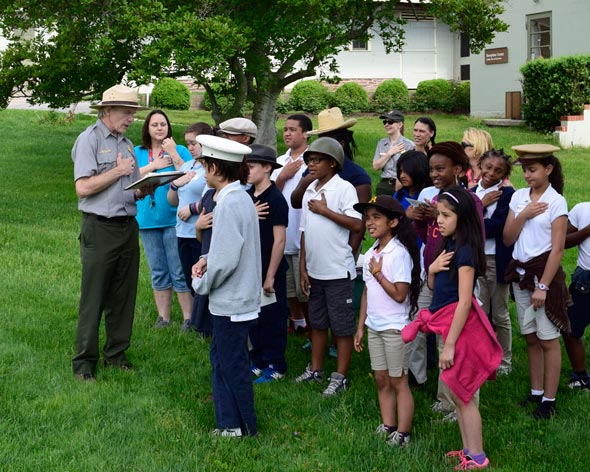 News Release Date:
January 7, 2016
Contact: Ahna Wilson, 717-338-4411
The National Park Service is offering new education programs at Eisenhower National Historical Site this year. Dates are available now for students from grades 3 through 12 to learn about conflict, leadership, and history on site or off-site through the virtual "Ask-a-Ranger" Program or with a ranger visiting the classroom.
Teachers are invited to enroll in a development workshop, "Summer Days with Documents," a unique opportunity to work with history experts and primary source documents to create classroom materials for future classes.
Eisenhower education programs are:
"Ike and the Men of D-Day" examines how the American infantry soldiers were prepared and equipped for the biggest military undertaking of WWII. Students have an opportunity to closely inspect the equipment American soldiers would have worn and carried with them onto the Normandy beaches. They role-play enlisted men preparing for the invasion, learn of Eisenhower's "common touch" leadership, and tour the home of the commanding general.
"Farm or Folly: Eisenhower, Nehru, and Khrushchev" is a virtual ask-a-ranger program created for those students unable to make it to Gettysburg. It examines Eisenhower's diplomatic skills and use of the Gettysburg farm as a meeting place to intimately discuss international issues with world leaders like the Prime Minister of India and the Premier of the Soviet Union. Students are sent after-action reports, diary entries, letters, and other primary source materials in advance to help them create document and place-based questions for the rangers. All that's required is a classroom capable of projecting a live video chat with a ranger and accompanying film clips on a large screen.
Finally, teachers are invited to join the NPS on July 20, 21, and 22 for "Summer Days with Documents: The Eisenhower Era." Teachers will spend each day with 20th century history experts to investigate compelling Eisenhower era documents;create reading strategies, learning objectives and assessments for students;and go on a mini field trip to apply that knowledge. Each day has a different focus - Day 1) Eisenhower and the World Wars, Day 2) Eisenhower and World Diplomacy, and Day 3) Eisenhower, Civil Rights and other Domestic Issues. Teachers can register for just one or all three. Participants receive plenty of primary source materials for the classroom and earn up to 12 hours of continuing education instruction.
To book these programs go to www.gov/eise/learn/education. For questions, contact: Site Manager Ahna Wilson at ahna_wilson@nps.gov or (717) 338-4411. 
Eisenhower National Historic Site preserves and interprets the home and farms of the Eisenhower family as a fitting and enduring memorial to the life, work, and times of General Dwight David Eisenhower, 34thpresident of the United States, and to the events of far-reaching importance that occurred on the property.