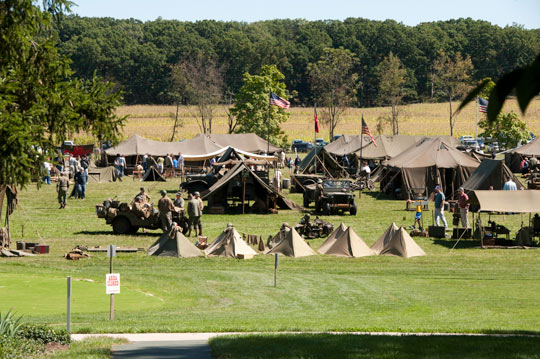 News Release Date:
July 16, 2013
Contact: Carol Hegeman, 717-334-2386 Ext. 4411
The annual Eisenhower World War II Weekend will go on as scheduled on Saturday and Sunday, September 21 and 22, 2013 thanks to a donation.  Visitors will be able to see authentic recreations of Allied and German army camps, complete with original World War II vehicles. Several hundred living history enthusiasts will portray military personnel from the European Theater in 1944. World War II veterans will also be on hand to share their personal stories of the war. On Saturday evening, a USO dance at will be held at the Gettysburg National Military Park Museum and Visitor Center.
The continuation of this event is made possible thanks to a generous donation fromThomas E. and Florence B. Metz. Thomas E. Metz is the former owner of Gettysburg Tours, Inc., which is the shuttle bus contractor for the Eisenhower National Historic Site shuttle system. Both he and his wife are long time park supporters.   Their donation will cover costs for staff overtime, rentals of portable restrooms, tent and public address system, the Gettysburg Big Band fee for the USO dance and other needs.  The size of the Metz donation will insure that Eisenhower World War II Weekend will take place for the next several years as well.
"We want to confirm that World War II Weekend will take place this year as we have heard from some living history groups that they thought it was cancelled because of the sequester," noted Supervisory Historian Carol Hegeman. "We want to dispel that rumor. We hope to see many living history groups register for the event."
Eisenhower National Historic Site is open daily. All visits are via shuttle bus from the Gettysburg National Military Park Visitor Center, 1195 Baltimore Pike in Gettysburg. Shuttles depart every half-hour from9:00 a.m. to 4:00 p.m.daily.  Admission is $7.50 for adults, $5.00 for children ages 6-12, under 6 free.
For more information contact the Eisenhower National Historic Site at 717/ 338-9114 or visit the web site at www.nps.gov/eise