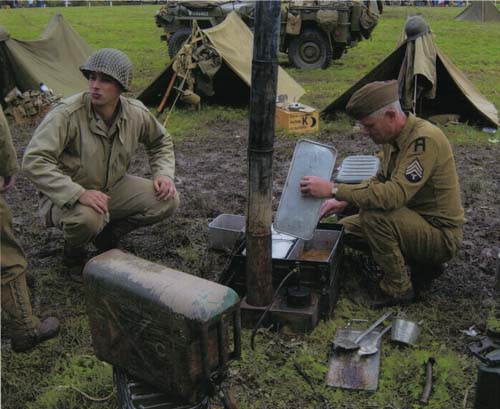 News Release Date:
May 28, 2013
Contact: Carol Hegeman, 717-338-9114 Ext. 4411
On June 8 and 9, the National Park Service at the Eisenhower National Historic Site will commemorate the anniversary of D-Day, the Allied invasion of Normandy, France. It was the most crucial decision Supreme Allied Commander Dwight D. Eisenhower made during World War II. At a meeting with his staff the early morning hours of June 5, the group learned there was to be 36-hour break in the torrential rains.  Eisenhower had already had to postpone the invasion 24 hours because of the weather. After listening to his advisors opinions, it came down to Eisenhower to make the decision. He said, "O.K., let's go," and within 30 second his commanders left for their command posts leaving Eisenhower alone with his thoughts. On June 6, 1944, 160,000 Allied troops landed on the beaches in Normandy, France. General Dwight D. Eisenhower commanded these troops and eventually three and a half million soldiers in the European Theater who defeated Nazi Germany.  
Eisenhower and the soldiers who made the landings will be remembered in a special program by park rangers, Eisenhower and the Men of D-Day. Visitors will have an opportunity to learn about the D-Day invasion and Eisenhower's relationship with the troops through a hands-on experience with equipment and uniforms. The program will be presented at 12:15 p.m. and 3:15 p.m.both Saturdayand Sunday. It will also be presented daily during the summer season, mid June - mid August. This program was made possible by a grant from the Dwight D. Eisenhower Society. 
A small living history encampment will also be set up at the Eisenhower Site.  Visitors are welcome to stroll through the camp and talk informally with the living historians from 9 a.m. to 4:30 p.m. each day. U.S. Army infantry, paratroopers, tankers and artillerymen will be presented by the 9th Division World War II History Preservation Society.  Saturday only, the 325thGlider Infantry Regt., 82ndAirborne Division Re-enactors will be present.  
On Sunday only, Licensed Battlefield Guide Ralph Siegel will conduct tours of the Soldier's National Cemetery that focus on World War II soldiers buried there.  Resting near the Civil War dead - and overlooked by many visitors - are 1,600 World War II veterans. Siegel's research on these World War II soldiers killed in action at Pearl Harbor, D-Day, the Malmedy Massacre and in other actions is the basis for the compelling stories he tells on a cemetery walk. The free tours will be presented at 11 a.m. and 2 p.m. Sunday, June 9. Visitors should park in the National Cemetery parking lot on Taneytown Road. The tour begins at the Gettysburg Address Memorial inside the Taneytown Road cemetery gate.
Eisenhower National Historic Site is open daily. All visits are via shuttle bus from the Gettysburg National Military Park Visitor Center, 1195 Baltimore Pike in Gettysburg. Shuttles depart every half-hour from 9:00 a.m. to 4:00 p.m.daily.  Admission is $7.50 for adults, $5.00 for children ages 6-12, under 6 free.
For more information contact the Eisenhower National Historic Site at 717/ 338-9114 or visit the web site atwww.nps.gov/eise