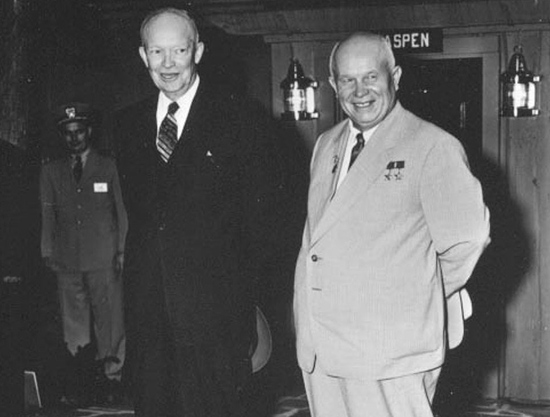 News Release Date:
May 4, 2015
Contact: John Joyce, 717-338-9114 Ext 4415
Teachers as well as those who simply love history are invited to attend the 18th annual Eisenhower Academy held at historic Gettysburg College July 26 –31. The Academy offers a unique opportunity to explore and assess 1950s Cold War America and the Eisenhower presidency. The week long institute focuses on the policies, events, crises, and life style of America in the 1950s.
Lectures and discussion throughout the week will cover the Cold War, McCarthyism, civil rights, the Suez Crisis, and 1950s politics and popular culture. Field trips include an in-depth behind-the-scenes visit to the Eisenhower National Historic Site and a guided walk through historic Gettysburg to explore Eisenhower's life and times in the community. Teachers will be introduced to effective strategies for teaching the Cold War era in the classroom.
Evening events include a banquet dinner with Susan Eisenhower and an evening picnic at the Eisenhower farm topped off by a competitive putt-off on the Eisenhower green.
Two Pennsylvania professional education credits (60 ACT 48 hours) are available for attending the Academy as are scholarships for teachers from Title 1 schools and schools with a large percentage of free and reduced lunch students. Three graduate credits are also offered through Mount Saint Mary's University for an additional fee. Teachers, college and graduate students, and those who simply wish to learn more about Eisenhower and 1950s America are invited to attend. 
The faculty includes Dr. Michael Birkner, Gettysburg College; Chris Tudda, Department of State historian, Dr. Daun Van Ee, Editor, The Eisenhower Papers Project; Dr. Keith Olson, University of Maryland; Carol Hegeman, Eisenhower National Historic Site historian; Lee Ann Potter, Library of Congress Director of Education; Dr. George Colburn, film maker and producer of The Eisenhower Era Education Project; Dr. David Nichols, Southwestern College; Dr. David Schuyler and Dr. Alison Kibler, Franklin and Marshall College; and President Eisenhower's granddaughter, Susan Eisenhower.
The Eisenhower Academy is sponsored by the National Park Service at Eisenhower National Historic Site, Gettysburg College, Mount St. Mary's University, and the Dwight D. Eisenhower Society. Total cost of the week-long institute, including lunches, lodging in air-conditioned residence rooms with private baths, field trips, evening banquet, picnic, and special events is $770 single occupancy. The day student rate is $490. For more information and the Academy agenda visit www.nps.gov/eise or call (717) 338-9114.