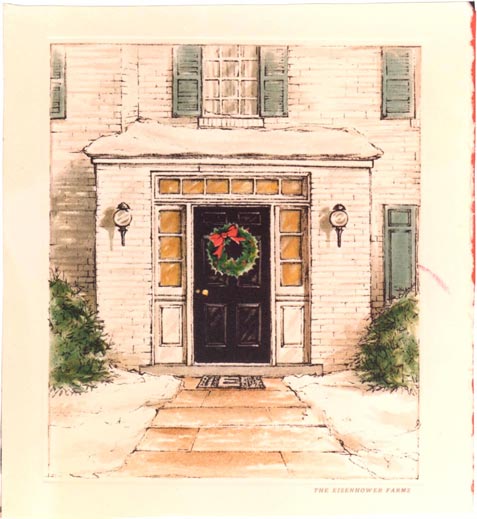 News Release Date:
November 25, 2014
Contact: Carol Hegeman, 717-338-9114 Ext. 4411
Eisenhower National Historic Site is dressed up for a holiday party and you're invited. Celebrate this holiday season at the home and farm of Dwight and Mamie Eisenhower and see the Eisenhower family's decorations on display from December 1 through 31. The celebration includes a holiday reception on Saturday, December 13, with cider and cookies courtesy of Gettysburg Tours, Inc. Beginning December 3, the Eisenhower nativity dioramas, exhibited in the White House during the Eisenhower presidency, will be on display in the lobby of the Gettysburg National Military Park Museum and Visitor Center. This display will be on exhibit through December.
Mamie Eisenhower loved to decorate their home for Christmas. As White House Chief Usher J. B. West said, "Mamie Eisenhower decked the halls with more than holly."  Her hand is evident in the home's recreated decorations, complete with mistletoe, wreaths, and poinsettias. A brightly lit, candy cane-covered Christmas tree surrounded by presents illuminates the living room. A life-sized Santa Claus enlivens the casual atmosphere of the Eisenhowers' porch while, in the kitchen, gifts of sugar cookies and plum pudding await the arrival of the Eisenhower grandchildren. The dining room table is set for Christmas dinner and the Eisenhowers' Christmas records playing in the background add to the holiday atmosphere.
The Eisenhowers' specially designed White House Christmas cards are on exhibit, along with Christmas gift prints of the President's paintings. One of the original decorations from the first family on display is a 1950s handmade Christmas shadow box. Park interpreters will share Eisenhower family recollections of Christmas in Gettysburg.
The Eisenhowers displayed three Nativity dioramas in the East Room of the White House that were gifts from Raymond and Mildred Pitcairn. The nativity scenes were displayed during the holidays from 1954 through 1960 in the White House. Before leaving the White House, Mrs. Eisenhower gave the dioramas to the Gettysburg Presbyterian Church where they were displayed until 1994. The dioramas were then donated to Eisenhower National Historic Site and displayed until 2000. Thanks to a generous donation by the Gettysburg Foundation, the newly repaired and conserved dioramas will be exhibited as they were at the Eisenhower White House.
The Eisenhower National Historic Site is open daily with shuttle buses leaving the Gettysburg National Military Park Museum and Visitor Center at10 a.m.,11:30 a.m.,2 p.m. and 3:30 p.m. Admission is $7.50 for adults and $5.00 for youth ages 6 -12;children age5and under are admitted free. Advance reservations are available and highly recommended for groups. Reservations can be made by calling 877-874-2478. 
For the holiday reception on December 13, shuttle buses will depart from the Gettysburg National Military Park Museum and Visitor Center on the hour between 9:00 a.m. and 4:00 p.m. The Site is closed on Christmas Day and New Year's Day.