Eisenhower Farms Sign Donated to Site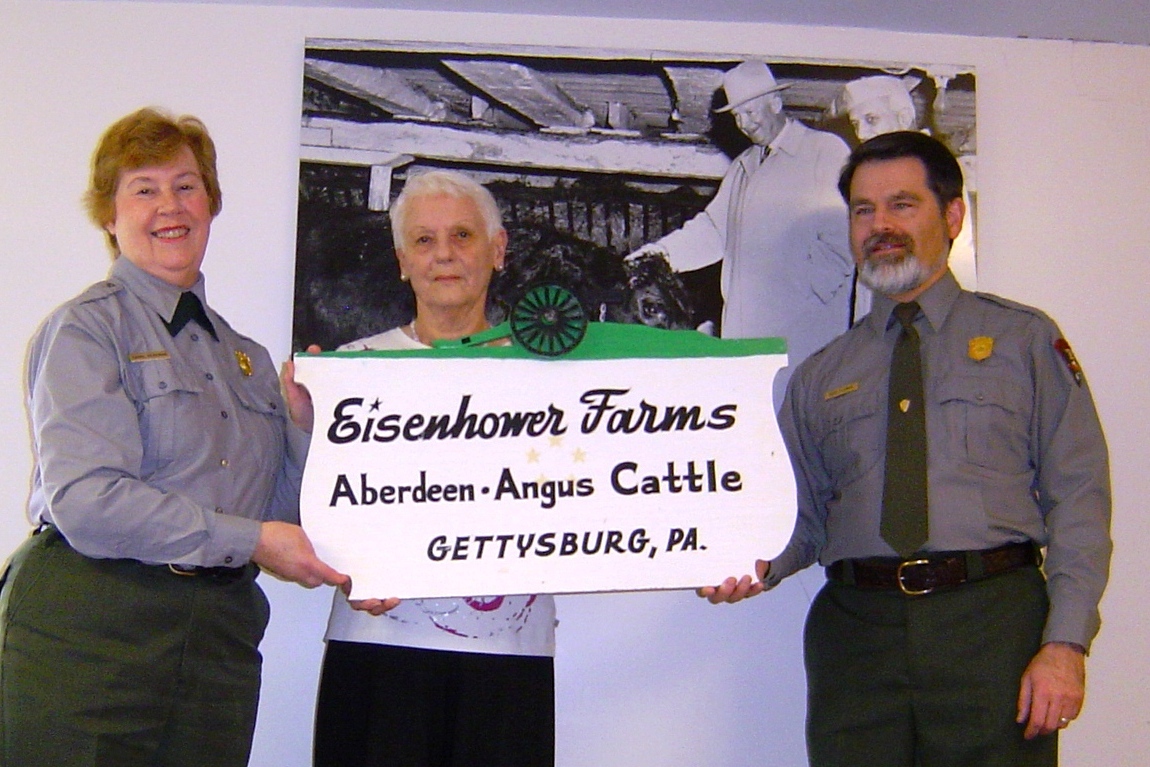 News Release Date:
December 12, 2012
Contact: Carol Hegeman, 717-338-9114 Ext. 4411
When Gloria Hartley stopped by the Eisenhower National Historic Site headquarters building in September, she was coming home. Hartley, of New Holland, Pennsylvania, had raised her children in the farmhouse that is now the staff offices. Her husband, Bob Hartley, was the herdsman and farm manager for the Eisenhower Farm's registered Angus cattle operation. Mr. Hartley began working for President Eisenhower and the cattle partnership in November 1956 as the herdsman and soon oversaw the farming operations as well. In 1958, he moved his family into the farmhouse on Eisenhower Farm 2 -- the heart of the cattle operation. TheHartleysstayed on the farm until General Eisenhower sold his registered Angus show cattle herd in 1966.
Mrs. Hartley returned to the farm this week to donate the Eisenhower Farms sign that identified the cattle when they were at shows. The two-sided, three-dimensional sign painted with a Civil War cannon representing the battle of Gettysburg, hung at many cattle shows including the Pennsylvania Farm Show, the Maryland State Fair, the Western Stock Show in Denver and the International Livestock Exposition in Chicago as Eisenhower Farms cattle competed for ribbons and the coveted designation of Grand Champion.  Years ago, Mr. Hartley donated his photographs, documents and many artifacts related to the operations of Eisenhower Farms. Since her husband's death, Mrs. Hartley had found a few smaller items that she donated to the site. The donation of her prized possession, the Eisenhower Farms sign, helps to round out the site's museum collection related to the farm operation and educate visitors on that aspect of Dwight Eisenhower's life and work
For more information contact the Eisenhower National Historic Site at 717/ 338-9114.
Last updated: February 26, 2015