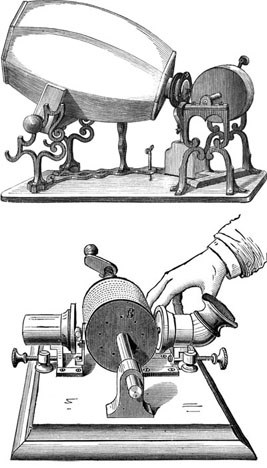 When compared with Edouard-Léon Scott de Martinville's cylinder phonautograph of 1859, Thomas Edison's cylinder phonograph of 1877 may seem obvious in design and function. In hindsight today, one might assume that Edison's idea came to the inventor fully-formed. The phonograph could, in fact, have taken any number of forms. Indeed, Edison did not initially envision a "phonograph" per se. He always claimed that the inspirations that eventually distilled into this singular invention evolved from his efforts to improve on Alexander Graham Bell's telephone of 1876.
Obvious similarities between the phonautograph and the phonograph raise the questions:
Did Edison set out to improve upon Scott's phonautograph?
Was he explicitly building on this existing technology, or did he come to the idea of sound recording independently?
Primary sources are silent on whether Edison even knew of the phonautograph in 1877. Had he run across accounts of the phonautograph in scientific literature, evidence suggests he would have concurred with the scientific community's underestimation of its recording fidelity. He wrote as much in a marginal comment in his copy of German physicist Hermann von Helmholtz's book
On the Sensations of Tone:
"Untrue Record—this instrument never gives true record[ing]." (Partially erased, this could have been written before or after the invention of the phonograph.)