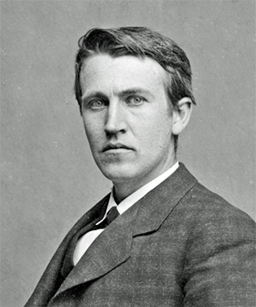 Thomas Edison: The Phonograph
Edison's phonograph was the first machine to both record sounds and play them back. Edison arrived at the invention through his work on the telephone, independent of the work of Edouard-Léon Scott de Martinville and Charles Cros. While Scott was the first person to record sound and Cros was among the first to suggest playing it back, Edison approached sound recording and sound playback as two necessary aspects of the same endeavor.
When Edison began his experiments to make patentable improvements on Alexander Graham Bell's telephone, he brought with him many years of experience with telegraph equipment. In fact, he initially referred to the telephone as a "speaking telegraph;" to him it was just another way to send signals over a wire.