Quarry Exhibit Hall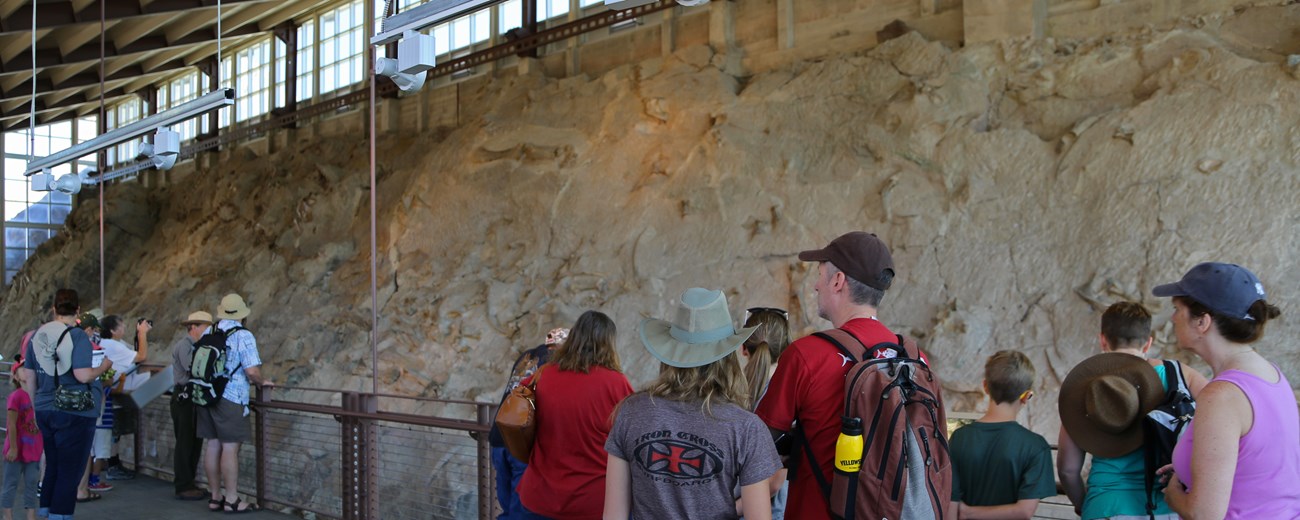 The Quarry Exhibit Hall allows visitors to view the wall of approximately 1,500 dinosaur bones in a refurbished, comfortable space. Here, you can gaze upon the remains of numerous different species of dinosaurs from the Late Jurassic period, including Allosaurus, Apatosaurus, Camarasaurus, Diplodocus, and Stegosaurus, along with several others. There are even several places where you can touch real 150 million year old dinosaur fossils! Rangers are available to answer questions, help kids complete their Junior Ranger booklets, and occasionally provide talks on different topics related to the quarry or dinosaurs during the summer.
Visit our keyboard shortcuts docs for details
Duration:

8 minutes, 43 seconds
The Quarry Exhibit Hall is where you can see a wall of approximately 1,500 dinosaur bones. Join a ranger to learn the story behind the fossils, their discovery, and the creation of the building.
What You'll See at the Quarry Exhibit Hall
The Quarry Exhibit Hall is a large indoor building with glass windows that provide sweeping views of the landscape. Outside, you can see part of a geological anticline (uplift) with many rock layers exposed at an angle. One of these layers, the Morrison Formation, is also exposed inside the Quarry Exhibit Hall. This section contains over 1,500 fossilized bones of dinosaurs from the Late Jurassic Period, approximately 150 million years old. There are 8 different species of dinosaur remaining in the Quarry Wall, including a few fan favorites like Stegosaurus and Allosaurus. Some of the skeletons are articulated (connected in the right order), but most of them are loose and unconnected. A few even bear signs of scavenging. In addition to the fossil wall, there are many other exhibits around the museum to explore. You can see displays showcasing fossils of small mammals, clams, amphibians, reptiles, and plants of the Morrison Environment. Rangers staff the Quarry Exhibit Hall yearround to orient visitors and answer questions, as long as road access to the Quarry remains clear.
Visit our
Operating Hours and Seasons
page to learn when the Quarry Exhibit Hall is open. See our
Current Conditions
page to determine if the road to the Exhibit Hall is open.
Getting to the Quarry Exhibit Hall
The Quarry Exhibit Hall is a separate building from the
Quarry Visitor Center
. It is located about 0.25 miles (0.4 km) away from the Visitor Center by road. Due to changing weather and road conditions throughout the seasons, access the Quarry Exhibit Hall changes throughout the year. Depending on when you visit, you may be asked to choose between riding the park shuttle or hiking the
Fossil Discovery Trail
(1.2 miles or 2 km one-way), or driving yourself to the Exhibit Hall.
Accessibility:
Visitors who would have trouble hiking or taking a large step up onto the park shuttle are always welcome to drive a personal vehicle from the Visitor Center to the Exhibit Hall. There is about 12 inches (31 cm) of clearance between the first shuttle step and the ground. Once at the Exhibit Hall, an ADA compliant ramp connects the first and second floors, both indoors and outdoors. There is no elevator. A wheelchair is available to borrow upon request. Please visit our
Accessibility
page for more information.
Pets:
Since pets aren't allowed on the shuttle or on the Fossil Discovery Trail, visitors travelling with pets are welcome to drive a personal vehicle to the Exhibit Hall. Pets and animals who provide only comfort or emotional support aren't allowed inside the Quarry Exhibit Hall. It is also against park rules to leave a pet unattended or tied to an object. Instead, party members travelling with pets are asked to take turns waiting with them. You may choose to wait with your pet in your car, relax under the shade shelter, or enjoy a walk along the sidewalk that surrounds the Exhibit Hall parking lot. Please remember that pets must be on a leash no longer than 6 feet (2 meters) at all times, and handlers must clean up after them. Visit our
Pets
page for more information about where you can go with furry friends.
Discover Dinosaur's Paleontology
Want to learn more about Dinosaurs and other paleontological resources found in the monument? Visit our paleontology pages.