Commercial Filming & Photography
Definition
Commercial filming means the film, electronic, magnetic, digital, or other recording of a moving image by a person, business, or other entity for a market audience with the intent of generating income. Examples include, but are not limited to, feature film, videography, television broadcast, or documentary, or other similar projects. Commercial filming activities may include the advertisement of a product or service, or the use of actors, models, sets, or props. Under Public Law 106-206 all commercial filming requires a permit and is subject to a location fee and cost recovery charges.

Permits are NOT generally required for:
Visitors engaged in filming/photography intended for their personal use and enjoyment.
The filming of breaking news (an event that cannot be covered at any other time or location) by news crews.

Still photography, whether commercial or noncommercial, will not require a permit unless:
It takes place at a location where/when the public is generally not allowed, or
It uses models or props that are not part of the monument's natural or cultural resources or administrative facilities, or
The National Park Service would need to provide management and oversight to prevent unacceptable impacts.
NPS guidance is that a portrait subject is not considered a model. Examples of portrait subjects include, but are not limited to, wedding parties, high school/college, and graduates. But photography involving portrait subjects may require a permit if it also includes the use of props or sets, or is conducted in an area closed to the public, or needs to be managed by NPS personnel.

A request for a permit may be denied if:
There is potential that resource damage or impairment of their value would occur that cannot be mitigated or restored.
There is potential of unreasonable disruption of/or conflict with the public's use and enjoyment of the site(s) being requested.
There is likelihood that the activity poses health or safety risks to the public or crew.
The requested activity will violate any other Federal, State, or local laws or regulations.
Other activities are already planned or expected to occur at the same location.
It involves access to areas normally designated closed or limited to administrative use for resource or safety reasons.
The project includes a portrayal of activities that are not permitted within a national park
The requirements for supervising the project exceed the staffing capacity of the affected park.
The production crew is unwilling or unable to provide proof of insurance or reimburse the NPS for costs.

Policy

"The service…shall promote and regulate the use of…national parks…[its] purpose is to conserve the scenery and the natural and historic objects and the wildlife therein and to provide for the enjoyment of the same in such manner and such means as will leave them unimpaired for the enjoyment of future generations." (16 U.S.C. 1)

It is the policy of the National Park Service to allow filming and photography consistent with protection and public enjoyment of park resources. Therefore, the primary consideration in the evaluation of permit requests in Dinosaur National Monument is the potential for resource damage and the disruption of normal public use and values. Aesthetic values such as scenic vistas, natural quiet and dark night skies are resources that we and the public value.

The use of model aircraft (unmanned, under 55 lbs, flown for hobby or recreational purposes within the line of sight of the operator) is prohibited for the protection of the park's environmental and scenic values and for avoiding conflict among visitor use activities.
How to Apply

To apply for a filming permit Dinosaur National Monument, please complete the appropriate Form 10-932 (see below). Completed applications can be mailed along with credit card information in the application, or a check or money order made out to National Park Service for $100 to:

Filming Permits Coordinator
Dinosaur National Monument
4545 Highway 40
Dinosaur, Colorado 81610

Please allow sufficient time for evaluation by the monument staff before the start date of the proposed activity to be conducted in Dinosaur National Monument.

All applications will be handled in the order they are received. Standard requests can be processed in 15 business days. Requests that involve multiple locations, complex logistics, and coordination with other NPS divisions or visitor activities will likely require a minimum of four weeks to process, but may take longer depending on workload. A minimum of four weeks is also required to process permits for projects that need additional environmental compliance.

For questions or additional information, please contact the filming coordinator at (970) 374-3020.

In compliance with the requirements of the Debt Collection Improvement Act of 1996, the applicant must submit their social security number of Federal tax ID number when filling out the application for a permit. Applications will not be processed if submitted incomplete or are received without payment.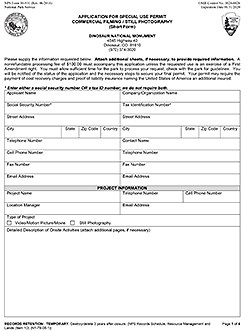 Form 10-931 Filming Permit Application (short form) Word document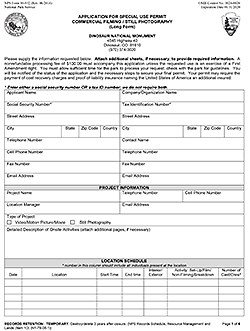 10-932 Filming Permit Application (long form) Word Document
Last updated: December 19, 2017