Boating and Rafting Permits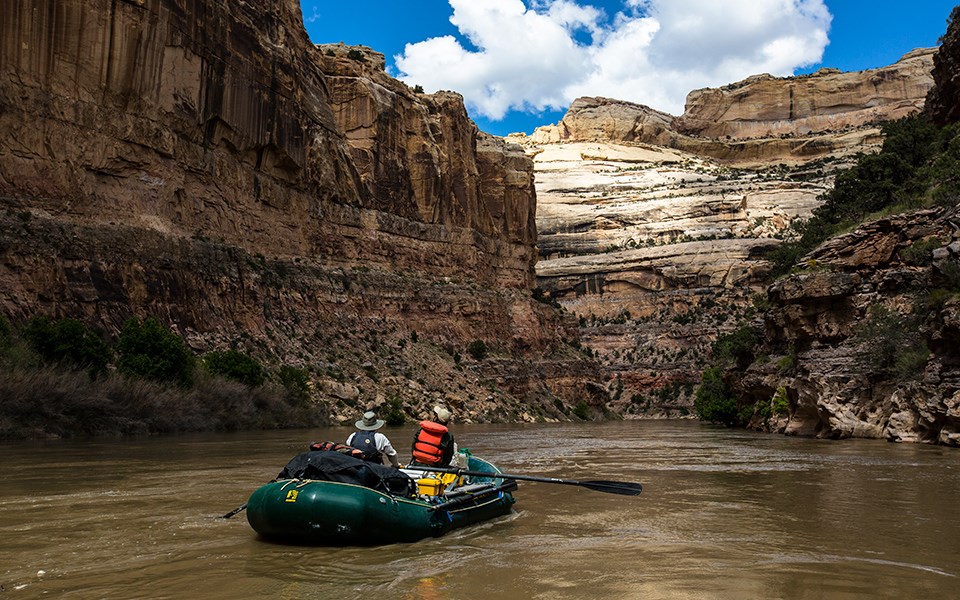 Permits are required for all river trips within Dinosaur National Monument. Permits are issued for multiday and single day trips. Play permits are issued for the Green River upstream of the Gates of Lodore boat ramp and downstream of the Split Mountain boat ramp. Boating permits are limited to protect the monument's natural and cultural resources and leave the river canyons unimpaired for future boaters. Multiday trip permits and single-day permits are issued through a lottery process. Private boaters with qualifying experience can apply for a permit.
For more general information about river rafting in Dinosaur National Monument visit our river rafting Information page.
Multiday Permits
Multiday permits are available for both the Green and Yampa Rivers. Generally, the Green River is a four day trip and the Yampa River is a five day trip. The Green River can be floated most of the year. Since dams do not regulate the flow of the Yampa River, its season is dependent on snowmelt. During years with a low snow pack, the river flow may be reduced by late May or early June. In years with a deep snowpack, the river may run well into July.
Visit Recreation.gov to apply online for the 2018 High Use Season Lottery. Lottery applications for permits are only be accepted online through Recreation.gov. Mailed applications are no longer accepted.
---
Single Day Permits
Permits are required to run the daily section of the Green River from Rainbow Park to the Split Mountain boat ramp. Permits can be obtained by visiting Recreation.gov. During the high-use season, there are two private trip launches available each day. During the low-use season, there is only one launch each day. High/low season for one-day permits are the same as for the Green River multi-day trips.
Single-Day permit application fee is $15.
Single-Day permit fee is $20.
Other Information
Daily section permit holders are subject to the same regulations as multi-day trips.

Visitors can only have one permit at a time (i.e. they have to use their daily permit before they can call to get another one), but they can go down the daily section as many times as they want in a season.

Please remember that dogs or other pets are not allowed on the river.

The Green River from Rainbow Park to Split Mountain does contain class III rapids and is not suitable for beginners.
---
Play Permits
A permit is required to boat into the monument from above Gates of Lodore or Deerlodge. Play permits for launches above these locations are issued at the River Office or at the Quarry Visitor Center, seven miles north of Jensen, Utah. This play permit allows groups to launch upstream of Dinosaur National Monument to begin their multi-day trip through the monument. One play permit each day will be issued for groups who wish to take out at Lodore or Deerlodge after 2 pm.
A separate play permit is required for rafting the Green River below the Split Mountain boat ramp. Play permits for rafting below Split Mountain are free and are issued at the River Office or at the Quarry Visitor Center, seven miles north of Jensen, Utah. No advanced reservations are necessary. Each play permit is good for groups as large as 25 people. Boaters may either take out at Placer Point (small craft only - canoes, duckys and kayaks - no rafts) or farther downstream, outside the monument. The Green River Campground is not a take-out or put-in location. Much of the land downstream of the monument boundary is private land; boaters are responsible for knowing local rules and regulations for take-out points outside the monument.
If you need additional information or would like to contact us, please email the monument river office.
---
When to Apply
High-use lottery applications will be accepted December 1, 2017, to January 31, 2018. All applicants will be notified of results by mid-February 2018. Low-use, one-day trips, and any unclaimed high-use trips will be available for reservation beginning March 1, 2018 on recreation.gov.
High Use Season for 2018
For the Green River, it is from May 14th to September 14th. For the Yampa River, it is from May 14th to July 13th. The rest of the year is considered low-use season for both river sections.

How to Apply for the Lottery
Applications are only accepted online through Recreation.gov
Applicants must be at least 18 years old.

Fees
Application Fee $15.00
Multi-Day Permit Fee $185.00
One-Day Permit Fee $20.00
Overlength Trip Fee $35.00
For more detailed information on river permit fees, see our river permit fee page. Note: Permit Fees do not include the required entrance fees for recreating in the monument.

To Contact the River Permit Office
Staff are available by phone to answer questions and assist with trip planning Monday through Friday, 8 a.m. to Noon (Mountain Time), at (970) 374-2468. You may also contact us by email.
Boating in the Monument 2018 Information and Regulations
Download this document to review monument regulations regarding river trips. You can also print a copy from here if there is not time to receive a copy in the mail before your trip. Each group is required to carry a copy with them on their trip. (Adobe PDF)
Last updated: May 3, 2018