River Rafting & Boating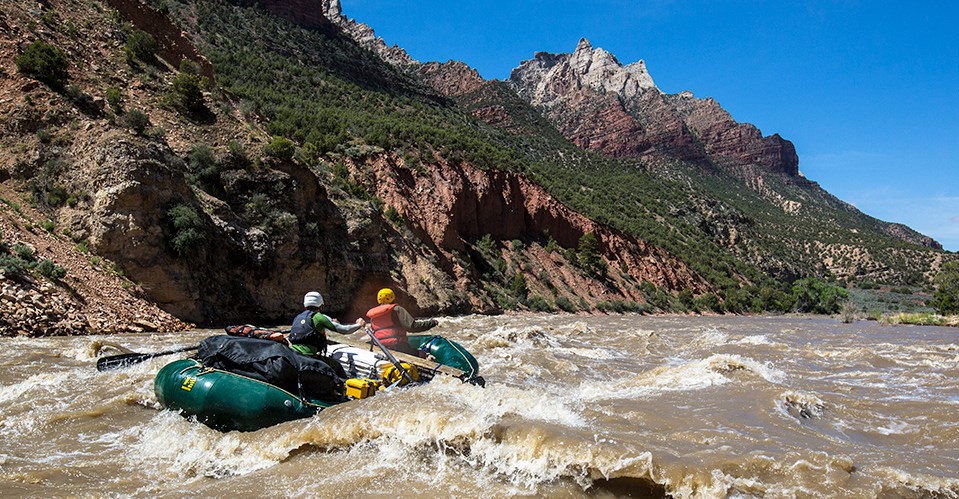 Rafting is a popular way to experience Dinosaur National Monument's remote canyons. From origins high in the Rocky Mountains, the Green and Yampa Rivers wind their way across sagebrush covered plains before entering this outstretched arm of the Unita Mountains. The mountains force the rivers into tight channels surrounded by towering cliffs. Drops and obstructions in the rivers create rapids. The thundering fury of Warm Springs, Hells Half Mile and other rapids can challenge even the most experienced boatman. Other locations such as Rippling Brook or Island Park allow you to sit on a quiet beach and escape the pressures of everyday life.
There are two options for rafting Dinosaur's rivers:
If you want to leave the rowing and planning to someone else, you can sign up for a guided (commercial) river trip with one of the monument's approved concessionaires. Commercial trips are offered on both the Green and Yampa Rivers. They include both one day trips through Split Mountain Canyon and multi-day trips of four or five days depending on the river.
If you have the experience and the equipment, you can apply for a permit for your own private, noncommercial river trip. The Green and Yampa River are not easy rivers to run and each has its own characteristics. The Green River between the Gates of Lodore and Split Mountain contains multiple challenging Class III and Class IV rapids, which can leave boats pinned on rocks and boatmen bruised and battered. The Yampa River also sports many Class III rapids and one Class IV known as Warm Springs Rapid, which has a hydraulic named Maytag that has the tendency to flip boats.


Last updated: March 14, 2019