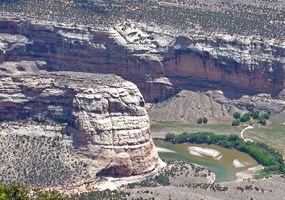 Dinosaur National Monument is a land of rivers. Here, the Green and the Yampa, two of the west's premiere whitewater rivers, flow through deep canyons with swelling rapids, and open parks where the rivers widen and the water runs smooth.
In 1938, President Franklin D. Roosevelt enlarged Dinosaur National Monument from its original 80 acres to more than 210,000 acres to protect the river corridors and adjacent viewsheds for the major canyons of the Green and Yampa rivers.
Today, Dinosaur National Monument protects 105 miles of river and more than 210,000 acres of ruggedly beautiful river canyons. Every year, nearly 15,000 people experience the beauty, adventure, and solitude of Dinosaur's rivers and river canyons on multi-day and single-day raft trips.