History & Culture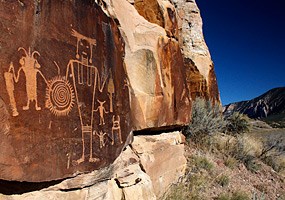 Thanks to the water of the Green and Yampa rivers, visitors to Dinosaur National Monument can experience a rich and vast cultural history. Indian rock art, in the form of petroglyphs and pictographs, reveal that people have lived in the area for at least 10,000 years.

Most petroglyphs come from the Fremont Indians, who lived in the canyons in and around Dinosaur National Monument 800 - 1,200 years ago. They were the forerunners of tribes such as the Ute and Shoshone, who still inhabit communities in the area today.

In the 1700s, Spanish explorers crossed the region and opened the door for settlers from Europe and the eastern United States who arrived in the 19th century. Those who had access to the water of the rivers left their mark on the landscape with their homesteads. Others dried up with drought and moved away.

Now many of the remains of homesteads are found alongside the Indian art work of the past, while the families of successful homesteaders continue to live in the area.


Last updated: September 25, 2019