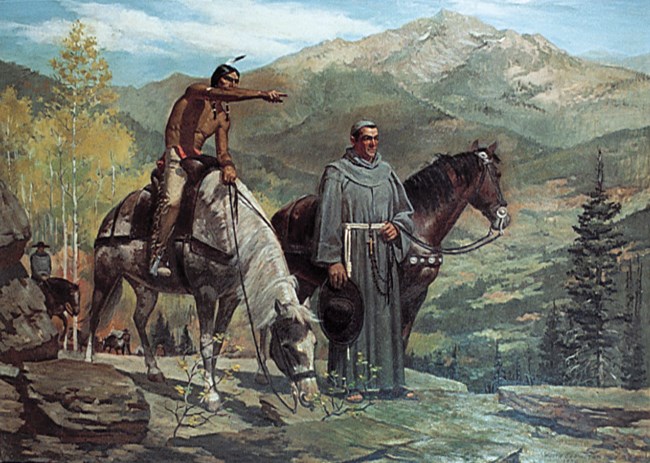 When visiting Dinosaur National Monument, people expect to see amazing things from the past. Many don't realize how many things other than dinosaurs appear from the depths of time. When stopping to see the Monument's entrance sign, you might notice a small stone marker that simply reads, "Escalante Crossed Here 1776." This sign marks the first known European expedition in what is now called the Uinta Basin. The journal recorded along the route is the best known document describing western Colorado, Utah, northern Arizona, and New Mexico at that time. It gives a surprisingly accurate and detailed picture of both the landscape and the people groups found there.
The expedition was organized in Santa Fe, NM with the goal to find a northern route to the newly established missions in Monterrey, CA. A Franciscan friar named Atanasio Domínguez was placed in charge and set about organizing the party. To aid him in this endeavor, Dominguez enlisted the help of fellow friar Silvestre Vélez de Escalante, who was familiar with the tribes on the northern frontier. Many give Escalante the credit for leading the expedition since he kept the journal that recorded daily events. However, Dominguez was the one who made most of the difficult decisions along the way and was ultimately the person to which everyone on the expedition answered. The two friars recruited a small group of men with the intention of securing guides from local tribes to lead them through unknown country. It was very small scale, and this made the journey all the more dangerous. They brought few weapons, and the Utes they encountered early in the expedition warned the friars that they would need them as they ventured further from settled areas.
The expedition began in Santa Fe on July 29, 1776 and traveled through Colorado, observing and naming obvious landmarks. While many of the names given by the expedition are no longer in use, a few still retain the original mentioned in Escalante's journal. For example, Canon Pintado or "painted canyon" is just south of Rangely, CO and refers to the pictographs left on the canyon walls that can still be seen today. Along this route the group would encounter the Utes, whom they referred to as Yutas, several times and were able to convince two to join them as guides. They gave the two guides Spanish names: Silvetre and Joaquin, after members of the party. Silvetre and Joaquin were invaluable to the group's success, guiding it from present day Colorado to Utah Valley. Remarkably, Joaquin was only twelve years old at the time of the journey.