Dingmans Creek Trail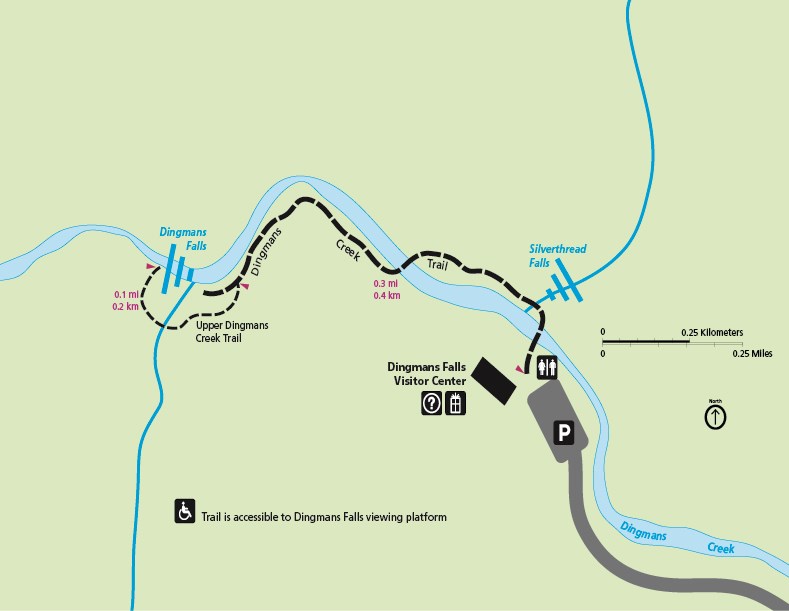 Basic Details
Trail Length: 0.4 mile, one-way
Difficulty: Easy; 0.3 mile is stroller and wheelchair accessible; last 0.1 mile is mostly stairs and would be considered moderate difficulty.
Elevation Change: First 0.3 mile 55 feet elevation change; last 0.1 mile 107 feet elevation change.
Trailhead Location: Directions to Dingmans Creek trailhead. The Trailhead is located next to the bathrooms in the Visitor Center parking lot at the end of Dingmans Falls Road.
Trail Desctription:
The Dingmans Creek Trail is a boardwalk trail, surrounded by rhododendrons, under a canopy of hemlock and hardwood trees. Visitors will follow the trail to two popular waterfalls: Silverthread Falls and Dingmans Falls.

This trail is wheelchair and stroller accessible for the first .03 of a mile, has benches at multiple locations along the trail, and hand rails along most of the walkway.

Steep wooden stairs allow hikers to climb to the extra 0.1 miles to the fenced viewing area at the top of Dingmans Falls. This section is not accessible to wheelchairs and is not recommended for visitors with mobility concerns.
Other Information:
Accessible restrooms located at trailhead.
Important location notes and restrictions:
Other than trained service dogs, pets are not allowed at this location. For more information about Service Animals in National Parks, check out the website.
Bus and RV parking is prohibited in the Dingmans Falls Visitor Center lot on weekends and federal holidays.
The following areas are closed to swimming/wading: Dingmans Creek from 100 feet upstream of the top of Dingmans Falls to the end of the Dingmans Falls Visitor Center Parking Lot, including the pool at the base of Silverthread Falls.
Picnicking is not permitted on the Dingmans Creek Trail or observation Platforms.
The road to Dingmans Falls is closed to vehicle traffic during winter months, but open to pedestrians. Check out our Current Conditions page for more information.
Please stay on marked trails.
No fishing is permitted in Dingmans Creek from 100 feet upstream of the top observation platform to the road-side end of the parking lot.
Silver Thread Falls along the Dingmans Falls Trail is closed to all climbing, rappelling, diving, or jumping including ice climbing for resource protection.
Last updated: May 4, 2023