Nature & Science: Geological Features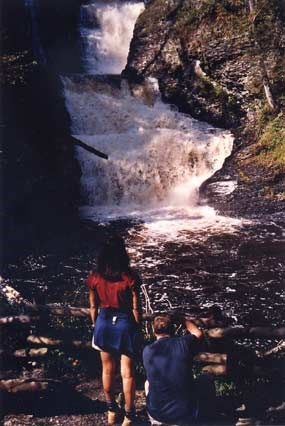 The ravines carved between the ridge tops are partly the result of glaciers moving across the landscape, deepening and widening the path opened up by the creek. When each glacier retreated, the creeks then tumbled over ledges of rock, forming waterfalls.
Where the rock at the top of the waterfall is more resistant to weathering than the rock below the falls, the waterfall is steep. Where the rock at the top of a waterfall is not much harder than the rock at the bottom, more gradual waterfalls can form.
Natural springs, swamp runs, and outlets of natural and artificial lakes drain the mountain sides along the river valley and form part of the Delaware Watershed. The drops of water that you see hurtling over these waterfalls will reach the Delaware River, and, in time, flow into the Atlantic Ocean.

Delaware River Basin Commission
Last updated: November 6, 2017