Scotty's Castle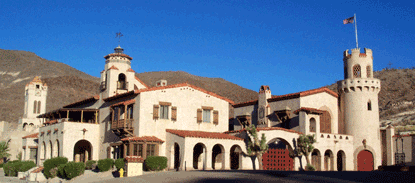 Scotty's Castle is CLOSED until further notice due to flood damage, and is not likely to re-open to the public until 2021. All entry to Grapevine Canyon and Scotty's Castle district is currently prohibited. More information is available about this extreme flood and recovery efforts.
Special Flood Recovery Tours are offered!
DVNHA and the National Park Service are pleased to offer walking tours of the Scotty's Castle Grounds. Come see first-hand how the power of water shapes the landscape of Death Valley. Participants will walk the grounds of Scotty's Castle with a ranger to learn about the damage sustainied and the repairs in progress. Listen to the stories of this unique palace in the desert, the people who called it home, and the plans for reopening this unique historic district.
Reservations Required. For tickets and information, please visit Scotty's Castle Recovery Tours Info and Reservations.
Hidden in the green oasis of Grapevine Canyon in far northern Death Valley, the Death Valley Ranch, or Scotty's Castle as it is more commonly known, is a window into the life and times of the Roaring '20s and Depression '30s. It was and is an engineer's dream home, a wealthy matron's vacation home and a man-of-mystery's hideout and getaway.
Walter Scott, Death Valley Scotty, convinced everyone that he had built the castle with money from his rich secret mines in the area. Albert Mussey Johnson actually built the house as a vacation getaway for himself and his wife Bessie. Scotty was the mystery, the cowboy, and the entertainer, but he was also a friend. Albert was the brains and the money. Two men as different as night and day, from different worlds and with different visions - who shared a dream.
"Moonlight anywhere is a delight. But there's no moonlight in the world that can compare with the moonlight in Grapevine Canyon, our desert canyon, where the Castle stands."
-quote by Mrs. Bessie Johnson from Death Valley Scotty by Mabel © 1932


Last updated: March 25, 2020