Bessie Penniman Johnson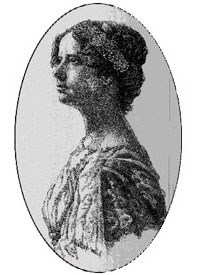 Bessie Johnson (1872 - 1943)
Bessie Morris Penniman was born in what is now Walnut Creek, California, and raised on her father's fruit and nut ranch, Shadelands. She was one of the 150 freshmen that made up the first entering class of Stanford University in Palo Alto, California in 1892. After two years of study she transferred to Cornell University in Ithaca, New York, where she met and eventually married Albert Mussey Johnson.
In 1915 Bessie underwent a religious conversion at a revival meeting conducted by evangelist Paul Rader. Bessie later introduced her husband to Rader, which in turn led to Albert's full-fledged support for the minister. Bessie's religious fervor was given full vent at the ranch, where she conducted services and gave sermons every Sunday she was there for the white workmen.
In Chicago, Bessie was deeply involved in the Chicago Business Women's Alliance. The alliance provided social services for single working women, to which Paul Rader was a frequent guest. In 1943, Bessie was killed in an automobile accident at Towne Pass, some forty miles south of the Castle, in what is now Death Valley National Park.


Last updated: October 6, 2021