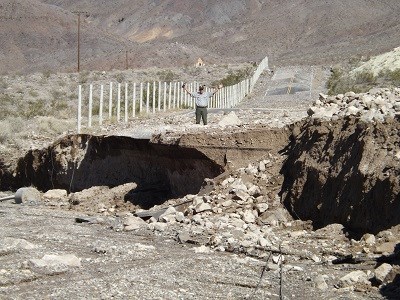 October 18 Storm
On the night of Sunday, October 18, 2015, park dispatch received word that visitors were stranded by flooding near Ubehebe Crater. Park rangers evacuated Mesquite Springs Campground and sheltered in place with 20 visitors in the northern end of the park. That night a park ranger watched power poles and metal dumpsters float out of Grapevine Canyon—an initial indicator of the flood's impacts.
Series of Record-Breaking October Storms
Over a two-week period in October, a series of unusual storms hit Death Valley National Park in a patchwork of intensities that varied by location.
These storms dropped a total of 1.3 inches of precipitation at Furnace Creek, the headquarters in the center of the park. This set a record for the wettest October ever, in a location that averages about 2 inches of rain annually. Furnace Creek was spared the strongest parts of the storms, which affected the southern and northern parts of the park more severely.
Scotty's Castle area averages 4 inches of rain per year, yet it received over 3 inches of rain and hail in just a five-hour period, after the ground was already saturated from preceding days of rain.