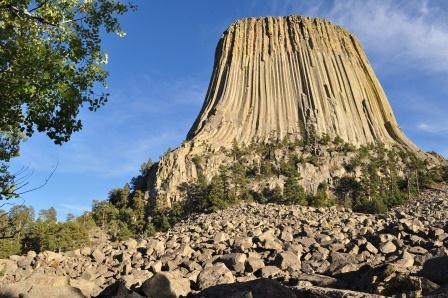 Devils Tower is where nature and science come together. Whether you are exploring the geologic formation of the Tower, or learning of the plants and animals that live upon its slopes, Devils Tower is a fascinating place.
Exploring the Geology of Devils Tower
The formation of Devils Tower hearkens back to the origins of the North American continent. Over millions of years, seas crashed over this landscape, laying down thousands of feet of sediment. Then with the same mountain building event that created the Rocky Mountains, molten rock was injected into the overlying sediment. The magma was then allowed to cool, and harden into the rock columns that still create questions today. The last ice age brought the Belle Fourche River was the catalyst that excavated Devils Tower and wind and water still work on her today. We invite you to explore the geology of Devils Tower.