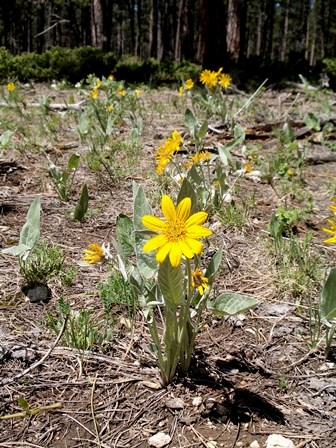 Devils Tower National Monument rides high on the plains of northwestern Wyoming.

Within the 1,347 acre park we find a myriad of different habitats, the ponderosa pine forest that surrounds the tower, the floodplain that surrounds the Belle Fourche River, and the grassland on the plains. Within these habitats there are thousands of plant species that populate Devils Tower National Monument.

Established in 1906, the monument preserves and protects its ecosystem and geologic features for scientific study and public enjoyment. These habitats and the plant species within them all are dependent upon the geologic, ecologic and human factors that shape the ecosystem within our boundaries.

Documented within our borders are more than 500 native and non-native plant species that provide homes and food for our wildlife, prevent erosion of our soils and provide beauty for our eyes.

Native Plants
A comprehensive list of the wildflowers most often seen along our trails and roads.

Non-Native Plants
Invasive non-native plants can displace native plant species, change the makeup of vegetation communities and affect the frequency of fire and the distribution, foraging activity, and abundance of wildlife. We are working to remove these non-native species and encourage native plant communities.
A Scientific Opportunity

Have you ever taken a picture of a deer, lizard, or unusual plant? Through a mobile and web-based tool called iNaturalist**, you can now share your photographs online, and people all over the world can help identify your observations. Together, people everywhere will be helping to create a record of life in our parks.

Anyone visiting national park lands with a smartphone or digital camera can turn their photos of plants, animals, fungi, and other "critters" into useful data. Even if participants don't know exactly which species they recorded, members of the global iNaturalist community work together to crowdsource identifications. Verified records from iNaturalist can be used to update NPSpecies, the official NPS database that documents our knowledge of the occurrence and status of species within each park.

Visit the iNaturalist website to learn more!
iNaturalist Instructions
iNaturalist Instructions(Spanish)
Many thanks to Cabrillo National Monument for letting us link to their videos!
NPSpecies
An additional resource for vascular and non-vascular plant lists and information is the NPSpecies search tool.