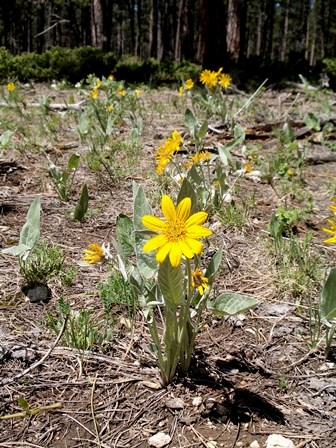 Devils Tower National Monument rides high on the plains of northwestern Wyoming. It represents an ecotone: a place where different habitats meet. The forests of the Black Hills, prairies of the Great Plains, and riparian areas of the Belle Fourche River create a myriad of different habitats in the 1,347 acre park. Within these habitats there are more than 500 native and non-native plant species. These plants offer homes and food for our wildlife, prevent erosion of our soils and provide beauty for our eyes.

Wildflowers
View a list of common wildflowers seen along our trails and roads.

Invasive Plants
Many common plants seen in North America today are not native to this continent. When those plants cause disruptions in ecosystems and out-compete native plants, they are considered invasive. We are working to remove these non-native species and encourage native plant communities.
NPSpecies
NPSpecies is an online database of species (plants and animals) that have been documented in your national parks. Visit the NPSpecies website or use the tools below to look up plant and animal lists for Devils Tower National Monument.