Wilderness and Sled Dogs
Visit our keyboard shortcuts docs for details
Duration:

7 minutes, 14 seconds
This winter 20 sled dogs and 2 kennels staff from Denali National Park & Preserve joined several staff from Gates of the Arctic National Park and Yukon-Charley National Preserve to clean up a remote section of designated Wilderness in Gates of the Arctic. Watch this short film to learn more about this special journey in celebration of the 50th Anniversary of the Wilderness Act of 1964.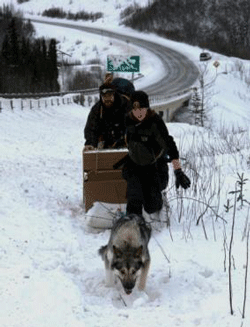 The Wilderness Act of 1964 celebrated its 50th Anniversary in 2014. Here in the Denali Kennels we celebrate this important piece of legislation and the Wilderness every year. The Wilderness Act one key reason why Denali National Park and Preserve maintains a working kennels of approximately 35 Alaskan Husky sled dogs.
Sled dogs and winter travels by dog team are a large part of the history and tradition of Denali, but they are also an important part of our modern park operations. Our first Superintendent, Harry Karstens, was first and foremost a dog musher. He acquired the park's first seven sled dogs in 1922 and we've been mushing ever since.
According to the Wilderness Act of 1964 Section 4(c) "there shall be no use of motor vehicles, motorized equipment or motorboats, no landing of aircraft, no other form of mechanical transport, and no structure or installation within any such area." Dog teams are a great alternative to motorized transport for many projects in Denali.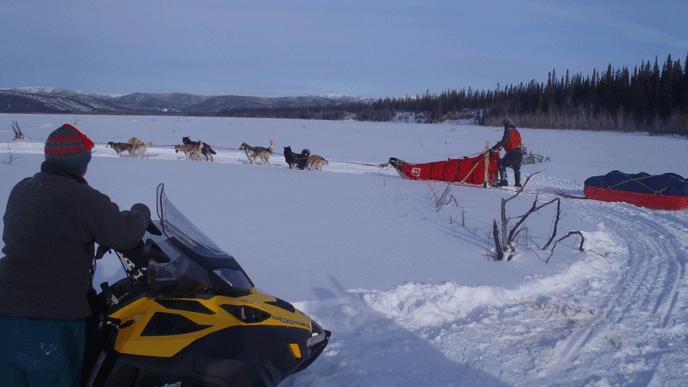 NPS Wilderness management policy states that (we will) "Perform any necessary wilderness management work, which should be undertaken only after determining the "minimum requirement," with the "minimum tool." The "minimum tool has the least discernible impact on the land." We are lucky in Denali that one option we have to consider as the "minimum tool" for accessing and accomplishing work in our 2 million acres of designated Wilderness is our sled dog teams. Denali is the only national park with a working sled dog kennel.
A big part of our job is helping park project managers decide which projects can use dog teams for accessing remote areas, contacting winter visitors in the park, transporting materials and supplies, gathering data for scientific research, etc. rather than using helicopters, planes or other motorized means of travel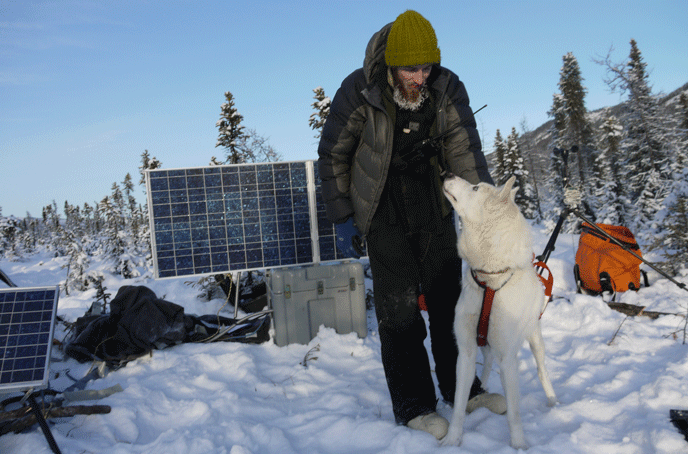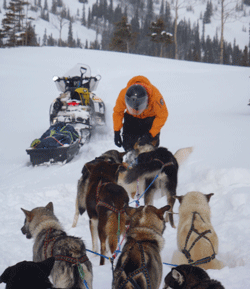 Our NPS Wilderness Management policy from 2006 also states that, "Managers contemplating the use of aircraft or other motorized equipment or mechanical transportation within wilderness must consider impacts to the character, aesthetics, and traditions of wilderness before considering the costs and efficiency of the equipment."
Using our sled dog teams for travel and transport might be slower or it might require hard work than using motorized transport, but it certainly helps preserve wilderness character and esthetics.
We celebrate the Wilderness Act of 1964 every time we hook up our dog teams to head out into the park in winter using the minimum tool for the job. We are grateful for those visionary leaders who wrote the Wilderness Act to protect our wild lands for years to come.
We hope to inspire the public to better understand and appreciate the significance of the Wilderness Act during every summer dog demo and every winter field operation.
Last updated: March 23, 2017