Citizen Science—The Denali Alpine Wildlife Project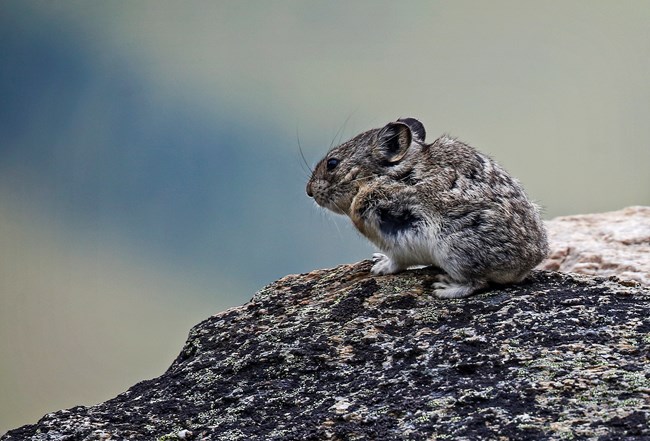 Take Pictures for Science
The Denali Alpine Wildlife Project offers citizen scientists a way use photographs to understand whether and how alpine wildlife are being affected by climatic and vegetation changes. To determine how these changes might affect them, researchers in the park are trying to understand what kinds of habitat each animal needs—in short, where different animals live and why.
Farther south in North America, the
American pika
is a 'canary in the coal mine' for climate change—it is very susceptible to warming and has been lost from many areas where it once occurred. But for its relative in Alaska, the
collared pika
, we do not yet know whether these changes are a threat. Alpine wildlife may be particularly at risk due to both the changing climate and the rapid expansion of tall shrubs and trees into the alpine tundra.
The Denali Alpine Wildlife Project is a park-wide survey of alpine wildlife species through the University of Montana. Public participation is purely voluntary.
We are building a database of wildlife sightings (i.e., photographs) through
iNaturalist
, a free and easy to use app that records the date, time, and location of submissions. iNaturalist accepts photographs of plants, wildlife, and scat.

Don't want to use an app to record data? Please feel free to email your high-quality photographs (with GPS locations) to us!
Before you start your trip:
Download the free iNaturalist app through the App Store or Google Play.

Make sure your location services are enabled for iNaturalist, so that it can identify photo locations.

For iPhones, go to: Settings > Privacy > Location Services

For Androids, go to: Settings > Location > App permission

Set your phone to airplane mode to increase battery life while you're in remote parts of the park.
During your trip:
While traveling in the park – on the bus, day hikes, or overnight backpacking trips, look for:

Collared pikas

Dall sheep

Hoary marmots

Arctic ground squirrels

If you see any of these species:
Open the iNaturalist app and click Observe.

Press the green circle at the bottom to take a photo.

Once you have the photo, click Next.

Add the species name under What did you see? Then click Share. It will save but will not upload yet.
After your trip:
Once you are in an area with internet, open iNaturalist and click Upload.
Note: We are also interested in sightings of willow, rock, and white-tailed ptarmigan. If you are an experienced birder and are able to differentiate between these three species, please submit any sightings to
eBird
.
This project requires you be physically in Denali National Park & Preserve. While in the park, look anywhere you wish, but especially at high elevations away from maintained trails.
Pay attention to talus areas. These are rocky outcrops with shoebox- to truck-sized rocks, and will be your go to spot for finding pikas and marmots!
Look out for scat!
Finding and identifying animal excrement ('scat') can be a great way to record data on our study species even if you don't see the animals. High-quality scat photographs (i.e. in focus and clear) can be submitted to iNaturalist. Make sure there is something in the photograph for scale, like a pocketknife, coin, or car key.
See the "Identifying Scat" section, below, for more details.
The research team behind this project would love to hear about your experiences in collecting
data for the Denali Alpine Wildlife Project. How many miles did you hike? What animals did you see? Did collecting data affect your experience in the park? Please
send the research team a message!
Data provided by the public are critical to the success of the Denali Alpine Wildlife Project. Park service biologists and their scientific collaborators are really grateful for your help!
Return to top of the page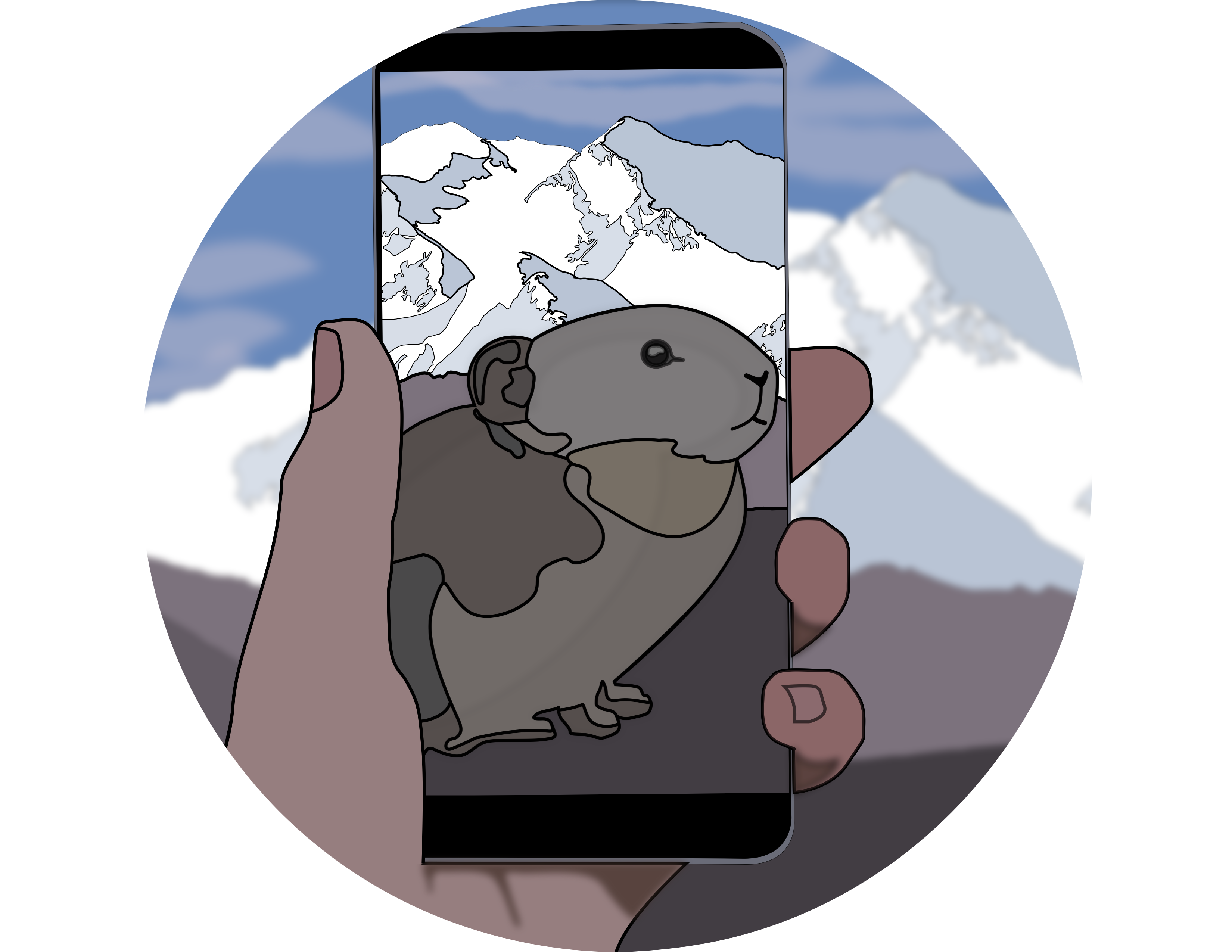 Project Background
Our climate is changing rapidly, and we see examples of this around the world through increasing temperatures, changing rainfall patterns, and increasingly frequent and strong storm events. These changes are particularly serious in Arctic regions, which are experiencing temperature increases at almost twice the rate of the rest of the world. Increasing temperatures are melting glaciers and snow and thawing permafrost, and these changes cause the organisms living in the Arctic to change in response.
For example, if you look at the vegetation going up a mountain, you can see a shift from trees to shrub to tundra to rocks to snowcapped peaks. But, as weather patterns change, we are seeing trees moving up into where the shrubs are and shrubs moving into the tundra, in what are known as high alpine environments.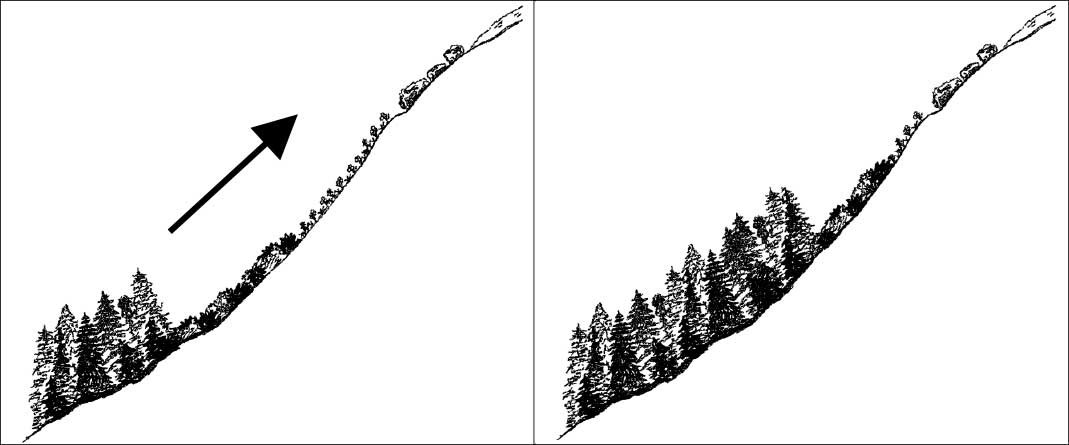 As shrub continue to move up mountains, the wildlife living in high alpine environments will face increasing habitat losses. These habitat losses isolate wildlife populations from one another, creating islands in the sky. This can make it challenging for wildlife to disperse to surrounding areas.
The Denali Alpine Wildlife Project's goal is to research how both changing climate and shifting vegetation are impacting where alpine wildlife live in order to predict where they might live in the future as their environment continues changing around them. We are focusing specifically on wildlife living in high alpine environments in Denali.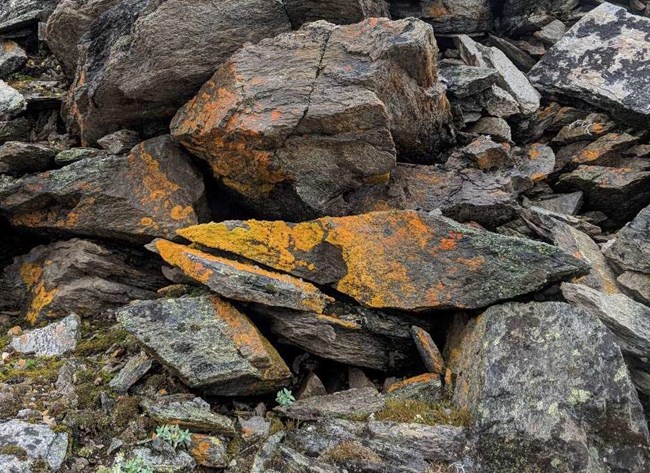 Identifying Scat
Finding and identifying animal excrement ('scat') can be a great way to record data on our study species even if you don't see the animals. High-quality scat photographs (i.e. in focus and clear) can be submitted as part of this citizen science project. Make sure there is something in the photograph for scale, like a pocketknife, coin, or car key.
In rocky talus, look for scat wherever you see bright orange lichen (
Xanthoria
lichen) on the rocks, as it often grows in areas where animals repeatedly urinate and defecate.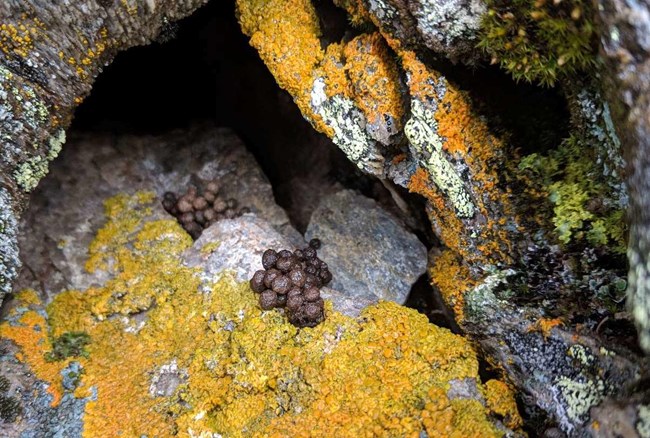 Pika Scat
Collared pika scat looks just like rabbit scat – round and flattened – only much smaller. Each pellet is about 0.1 inches (3 mm) across. Pellets can be found individually or in piles.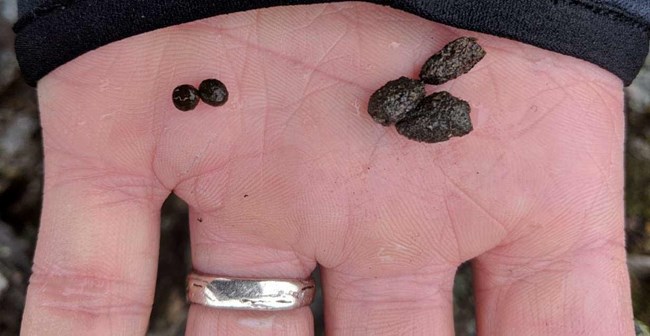 Arctic Ground Squirrel Scat
Arctic ground squirrel scat is larger than that of pikas, about 0.4 inches (10 mm) long. It is generally irregularly shaped and is often in clumps of two or more pellets together.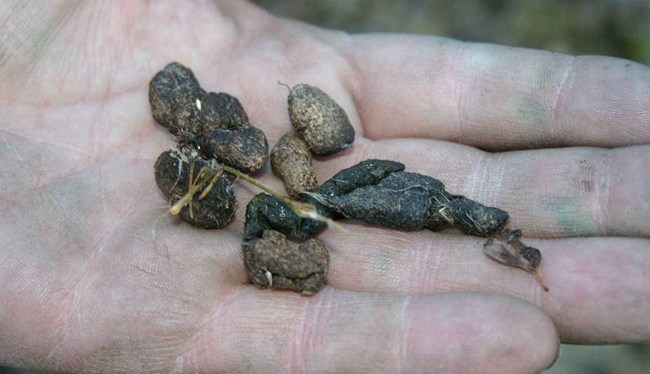 Marmot Scat
Hoary marmot scat is larger that that of Arctic ground squirrels, about 2.5 inches (6 cm) long by 0.8 inches (2 cm) wide. It is in irregularly shaped pellets or tubes.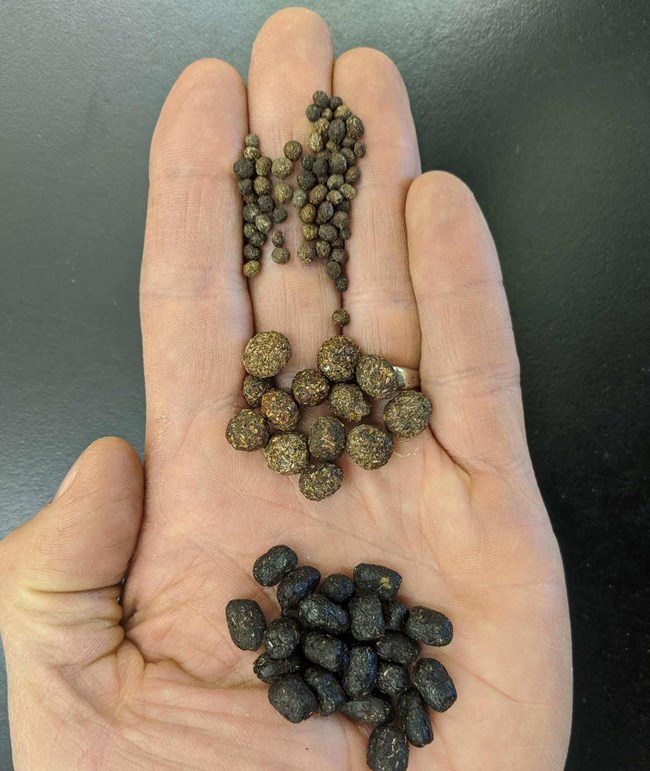 Dall Sheep Scat
Dall sheep scat is regularly shaped, oval pellets (like those of domestic sheep or goats), about 0.8 inches (20 mm) long. These are always found in piles, either where the animals were grazing (ex. in meadows and tundra), or where the animals bedded down (on the tundra or on rocky outcrops).
Snowshoe Hare Scat
Snowshoe hare is not one of this study's species, but their scat could be confused with that of our study species. Hare scat is the same shape as pika or rabbit scat—round and flattened—but much larger than pika scat: about 0.4 inches (10 mm) across. It is the shape and roughly the size of an M&M candy. Pellets can be found singly or in small piles.
Last updated: March 25, 2022