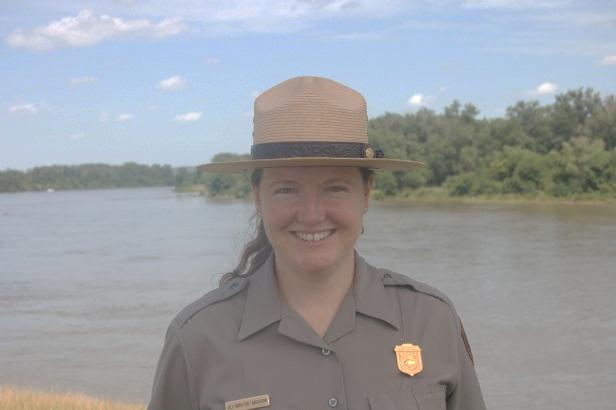 News Release Date:
September 9, 2015
Contact: Kara Roll, (912) 882-4336 x221
Cumberland Island National Seashore is pleased to announce the selection of a Chief of Interpretation, Education and Visitor Services, Jill Hamilton-Anderson.
"Jill is an outstanding Park Ranger who has the skills necessary to take Cumberland Island National Seashore's interpretation program to the highest level," said Superintendent Gary Ingram."Her interpersonal skills will enhance and grow our volunteer program as well as grow our partnerships with local school districts. She has dedicated her career to connecting visitors, both young and old to National Parks so that they have a greater understanding of America's greatest treasures. The park and the community are truly blessed to have her join our team."
Jill Hamilton-Anderson started with the National Park Service in 1994 as a seasonal park ranger on the Blue Ridge Parkway in North Carolina. Jill's primary emphasis throughout her career has been education. She has taught middle school science, was an education ranger and Education Specialist at Carl Sandburg Home National Historic Site. Jill successfully established the park's first curriculum-based education program and initiated an education volunteer base for the park. Jill has been recognized many times by the Southeast Region and has received the Keeper of the Light award for collaboration with museum staff on a Teaching with Museum Collections project and by the National Park Foundation with an education programming grant award.
In 2008, Jill moved to Omaha, Nebraska to serve as the first Education Specialist for Lewis and Clark National Historic Trail. At the Trail she assists and reviews curriculum development for formal and informal educators;researches and analyzes Lewis and Clark related education resources;promotes the integration of an American Indian perspective of Lewis and Clark in curriculum. Her most notable accomplishment at the Trail is a 5-year long partner curricula project with the University of Oregon known as Honoring Tribal Legacies: An Epic Journey of Healing that was launched in May.
Jill is a 3-year term member on the National Council for Interpretation, Education and Volunteers (NCfIVE) for the National Park Service.As a member of this council she advocates for the education profession in the National Park Service and she works with other members to advance the mission of interpretation, education, and volunteers in the service.
Jill has also served as an education subject matter expert for the National Park Service Washington Office of Learning and Development. She was part of a team who identified competencies relevant to the education profession and helped create a pilot training course for park educators.
"I am thrilled to join the team at Cumberland Island National Seashore," commented Hamilton-Anderson, "and I look forward to working with the staff, volunteers and the greater community to showcase what is truly special about this resource. I bring my love of education and passion for history and the natural world to the forefront of operations as I truly believe that greater understanding leads to caring and stewardship of our nation's most beloved places."
Hamilton-Anderson will have an office in St. Marys, Georgia and will step into her new assignment October 18, 2015.