50th Anniversary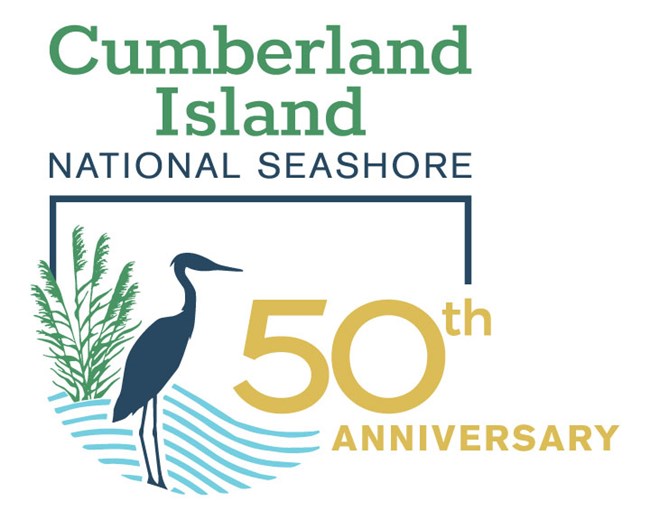 Cumberland Island National Seashore Turns 50 this year!!
Starting in October, the park will kick off a year-long series of events including special programs, a speaker series, and even a parade!
The commemoration will begin on October 1st with a kick-off event in associated with the St. Marys Seafood Festival. There will be a parade, presentation of colors, remarks from dignitaries, performaces by the First Coast Highlanders' pipe and drum band, the Camden County High School Junior Navy ROTC and premiere Volume One choir, and the Geeche Gullah Ring Shouters. There will be a living history encampment of 42
nd
Regiment of Foot and Clan Nan Con, a highlanders' regiment from Darien, a musket firing, and numerous other activities for kids.
Stay tuned and check back for updates to see how you can be a part of our anniversary!
October 1, 2022 - 50th Anniversary Kick-Off Event
Our kick-off event will begin with a Cumberland Island themed parade during the St. Marys Seafood Festival. Following the parade, a formal program to kick-off a year-long schedule of events will begin at 11:15 am, at the St. Marys Howard Gilman Memorial Waterfront Park amphitheater.

The program will include a variety of amazing performances representing the diversity of Cumberland Island's history. Check out the program itinerary below.
Schedule of Events - October 1, 2022
10:00 am - St. Marys Seafood Festival Parade
Cumberland Island themed!
11:15 am - First Coast Highlander Pipe and Drum Band
11:45 am - Presentation of Colors
Camden County High School NJROTC
11:50 am - National Anthem
Camden County High School's elite Volume One Choir
12:00 pm Welcome by Gary Ingram, Superintendent
12:05 pm - Remarks
Dignitaries speak about the significance of the park
12:30 pm - Geechee Gullah Ring Shouters
1:30 pm - Musket firing
British soldiers from Fort Frederica National Monument and Fort King George State Historic Site
After the program, feel free to participate in the various activity booths set up by the visitor center and enjoy the St. Marys Seafood Festival.
Can't make this event? No problem! There will be special programs scheduled throughout the year.
Search for other 50th Anniversary events below.
Search Filters
By Park
By State/Territory
By Event Type
Last updated: September 21, 2022