50th Anniversary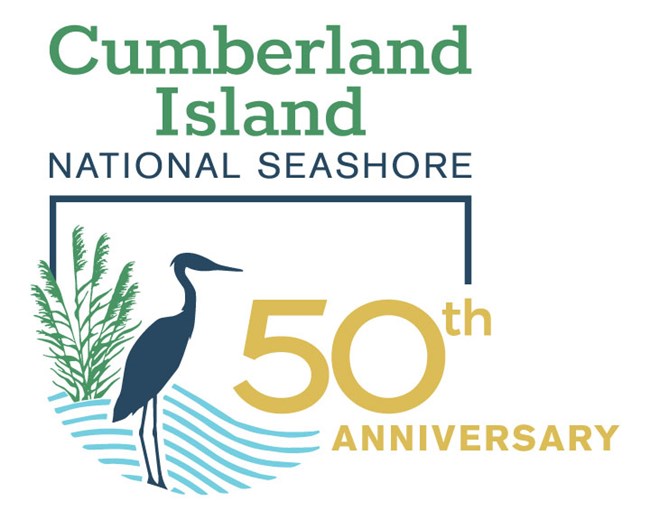 Cumberland Island National Seashore Turns 50 this year!!
Starting in October, the park will kick off a year-long series of events including special programs, a speaker series, and even a parade!
We have events planned throughout the year, so stay tuned to how you can share in this special milestone!
Stay tuned and check back for updates to see how you can be a part of our anniversary!
Upcoming Events
We have more exciting events planned throughout the year! Below are a few of the planned events, check back for more events!
50th Anniversary Speaker Series
The Gullah language & history and its ties to Cumberland Island
Sunn m'Cheaux
Harvard Univesities African Language Program Instructor
June 17, 2023, 2:00 pm, Coastal College of Georgia - Camden Campus
Our third and final speaker series event will feature academic, artist, advocate, and South Carolina native, Sunn m'Cheaux (mee-show) presenting on the Gullah language and its rich history.
Sunn m'Cheaux is a Gullah/Geechee Charlston, SC "binyah" (native). He was reared in rural Mt. Holly, South Carolina in a familial village established in the late 1850s. The rich Gullah language and culture he absorbed growing up on those sandy Low Country backroads is ever-present in his life as an artist, advocate, and educator.
Sunn is an artist, activist, and social commentator for whom representation and preservation of Gullah/Geechee culture, language and people are integral to his work.
He has cultivated a strong following online via social media with frequent viral content ranging from pop culture commentary, allegorical anecdotes, and entertainment, to serious discussions, advocacy, and philanthropy via crowdfunding. He uses this content to promote intellect, ethics, enlightenment, and education—the latter of which led him in 2017 to becoming the first and only Gullah language instructor at Harvard University. In this role, he teaches a curriculum based on extensive research and his own personal Gullah/Geechee knowledge and experience.

m'Cheaux has been fully embraced at Harvard University, having been invited to be a resident lecturer for Project Teach (Harvard's Official College and Career Awareness Program) and to speak about his course at other universities and events nationally.

In addition to academic endeavors, m'Cheaux has collaborated creatively in film and television as an actor and, more recently, as a Gullah language and culture consultant. He is set to release an illustrated book of Gullah fables for kids. Moreover, m'Cheaux is completing his mixed media memoir that will incorporate his talents in storytelling, songwriting, spoken word, photography, and education. Sunn's personal mantra in all his endeavors is "we outchea," a celebratory Gullah/Geechee affirmation meaning "we are out here."
Check out his work here.
Previous Speaker:
The Long View: Cumberland Island and the Georgia Coast
Lecture by G. Wayne Clough, President Emeritus, Georgia Tech and the 12th Secratary of the Smithsonian Institute
April 22, 2023, 2:00 pm, Coastal College of Georgia Camden Campus

Dictionaries define a coast as a boundary between an ocean and the land. You can see this notion on maps and how they are drawn. It is convenient, but not a reality. Consider seeing a scallop shell from the collections of the Smithsonian Institution said to be from the Georgia Coast. It looks like one you might have picked up yesterday on the beach at Cumberland Island, but this shell happens to be 70 million years old. The beach it might have been found on would have been located in Macon, Georgia.

Yes, this lecture is about the Georgia Coast and Cumberland Island, but it includes the idea that what we see today, what people who live after us will see, is about time, and the events that change what we call a coast or a barrier island. That a coast is a composite of an ocean with its salt waters and beach, but also the inlands behind it with rivers that bring fresh water to nourish the life there. That it provides a place where living things, literally wondrous living things, thrive. That Cumberland Island has been given to our generation to protect so future generations can see how all of this works today, but to understand, with the help of the Smithsonian and its collections, how the natural world will inevitably change it.
Visit our keyboard shortcuts docs for details
Duration:

51 minutes, 54 seconds
Learn about the fascinating history of the Georgia coast through the lens of the vast collections of the Smithsonian Institution. Starting 70 million years ago, learn how animals have adapted to changing circumstances - or did not.
Can't make this event? No problem! There will be special programs scheduled throughout the year.
Search for other 50th Anniversary events below.
Last updated: May 16, 2023