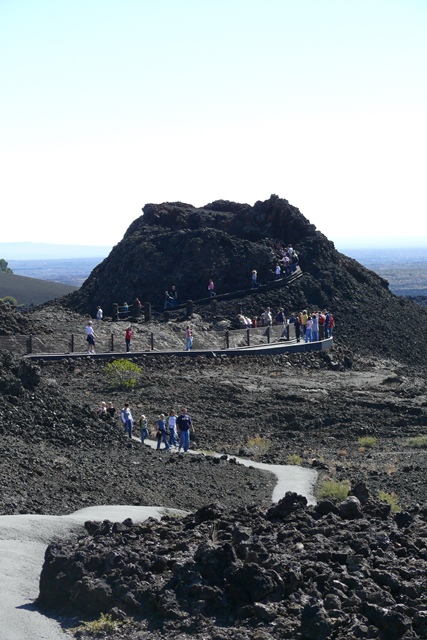 News Release Date:
March 15, 2017
Contact: Ted Stout, 208-527-1330
CRATERS OF THE MOON – Craters of the Moon National Monument recorded 255,436 visits in 2016, the National Park Service's centennial year. "Craters of the Moon welcomes visitors from across the country and around the world," said Superintendent Wade Vagias. "We are delighted to share the story of this place and the experiences it provides. The park also serves as a gateway to Idaho for many visitors. National park tourism is a significant driver in the national economy, returning $10 for every $1 invested in the National Park Service, and it's a big factor in our local economy as well. We appreciate the partnership and support of our neighbors and are glad to be able to give back by helping to sustain local with an estimated 8.4 million dollars in local economic benefits in 2015."
Visitation Highlights
-Visitation to the Monument in 1925 (the first full year the Monument was open) was 3,349
-Visitation has averaged about 200,000 per year since the mid-1960's with a gradual rise to the current level since 2012.
"Stunning," Acting National Park Service Director Michael T. Reynolds said of the 331 million visits counted across the National Park System. "We expected more visitors in 2016 as the NPS celebrated its Centennial with special events and activities, but these numbers really show the depth of feeling people have for their national parks, especially considering that increased visitation was recorded not just at the biggest and best known parks but at smaller historical and cultural sites as well."
Looking Ahead: Find Your Park in 2017 and Preparing for a Second Century of Service
Planning is underway to build on the success of
Find Your Park/Encuentra Tu Parque
as the National Park Service, the
National Park Foundation
, and local partners like the
Craters of the Moon Natural History Association
will continue the campaign's momentum in 2017. The Find Your Park movement will continue to engage new audiences, especially around significant moments, including National Park Week in April and the NPS 101st birthday in August. Throughout the year, the NPS and its partners will invite the public to explore parks they haven't yet discovered, build personal connections to special places in their communities, and find ways to help ensure that future generations are able to fully experience their national parks and the NPS programs that steward America's treasures.
More information about the success and long term legacy of the NPS Centennial is available online here:
https://www.nps.gov/subjects/centennial/success.htm
.  
www.nps.gov
/crmo
#2016 Accomplishments
About Craters of the Moon National Monument and Preserve
Craters of the Moon protects a vast "weird and scenic landscape" with remarkable and diverse volcanic feature, sagebrush steppe ecosystems, and wilderness which provides opportunities to explore, understand, and value the rugged and remote high desert landscape of the Great Rift Region. Visit us at
www.nps.gov/crmo
on Facebook at
www.facebook.com/CratersoftheMoonNPS/
About the National Park Service
More than 20,000 National Park Service employees care for America's 417 national parks and work with communities across the nation to help preserve local history and create close-to-home recreational opportunities. Visit us at
www.nps.gov
, on Facebook at
www.facebook.com/nationalparkservice
, Twitter 
www.twitter.com/natlparkservice
, and YouTube  
www.youtube.com/nationalparkservice
.