News Release
MOONFEST: Celebration set for July 20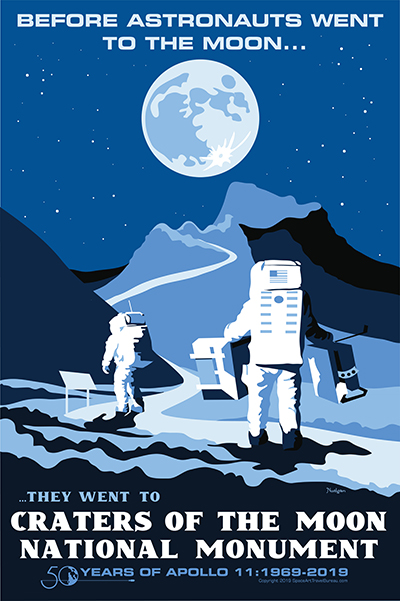 News Release Date:
June 13, 2019
Contact: Visitor Center Staff, (208) 527-1335
Craters of the Moon staff and partner organizations will host a special event celebrating the 50th anniversary of astronauts walking on the "Moon" (on the lunar surface and right here in Idaho!) on Saturday, July 20. Special activities, listed in detail below, will include presentations by astronaut John Phillips, youth activities, and opportunities to view the lunar surface through a telescope. MOONFEST events will take place from 9:30 a.m. to 5 p.m. at the Robert Limbert Visitor Center and from 8 p.m. to 10:30 p.m. at the Lava Flow Campground Amphitheater (see attached poster).
On July 20, 1969, Apollo 11 landed on the moon and astronauts Neil Armstrong and Buzz Aldrin walked on the lunar surface. About a month later, on August 22, several astronauts associated with the Apollo 14 mission visited Craters of the Moon National Monument in preparation for their 1971 lunar mission. Astronauts Alan Shepard, Edgar Mitchell, Joe Engle, and Eugene Cernan visited Craters of the Moon in order to learn the basics of volcanic geology. Since only a limited amount of rock samples could be returned to earth, it was important that they were able to identify the most scientifically valuable specimens.
Craters of the Moon continues to be an important venue for space science research. NASA scientists recently concluded two research efforts (BASALT & FINESSE) in which they utilized the lava landscape as a stand-in for Mars to test remote sensing, communication methods and other scientific research. In the words of one of the lead NASA scientists, Darlene Lim:
"Craters of the Moon National Monument has been a part of NASA's research and exploration efforts since the Apollo missions and what's so exciting is that this incredible environment is as relevant and scientifically important today as it was 50 years ago. We are here to figure out how best to support human and robotics missions to the moon, and Mars, and how to enable these future missions to make ground-breaking scientific discoveries as they explore the next frontier."
The public and media are invited to the following events on Saturday, July 20:
Robert Limbert Visitor Center theater*: 9:30 a.m. - 5 p.m.
*Please note that there is limited seating available in the theater. Sign-up sheets for the various events will be available at the visitor center information desk beginning at 8 a.m.
9:30 a.m. 
Presentation and book signing by
Moonscape
author Julie Weston.
Moonscape
is the latest in a historic-mystery novel series set in central Idaho. 
11 a.m.
Presentation and book signing by
The Flows
author Roger Boe. This new book explores the hidden wonders of Craters of the Moon through the poetry of Will Peterson and Roger Boe's photography. 
1 p.m.
Presentation of PBS American Experience film
Chasing the Moon
, about the Apollo 11 moon landing, and a short presentation about the astronauts in Idaho which is part of the Idaho Experience series. 
3 p.m.
Presentation by astronaut John Phillips detailing his experiences on the Space Shuttle and the International Space Station.
5 p.m.
STEM activities for youth, led by retired Park Ranger/NASA educator, Donald Scott (Visitor Center Patio).
Solar viewing
on the visitor center patio throughout the day.
Lava Flow Campground amphitheater*: 8 p.m. - 10:30 p.m.
*Please note that parking for these events will only be available in the visitor center or North Crater Flow parking lots. Both locations are about a ¼ mile walk to the amphitheater. People with accessibility needs may be shuttled to the amphitheater sidewalk.  
8 p.m.
Kids can earn a "Lunar Ranger" badge by participating in fun Ranger-led activities. 
8:30 p.m.
Enjoy the other-worldly music of Boise band Mageñtto.
9:30 p.m.
Presentation by astronaut John Phillips detailing his experiences on the Space Shuttle and the International Space Station.
10:30 p.m.
Night sky viewing with Astro Rangers.
-NPS-  
About Craters of the Moon National Monument and Preserve
Craters of the Moon protects a vast "weird and scenic landscape" with remarkable and diverse volcanic feature, sagebrush steppe ecosystems, and wilderness which provides opportunities to explore, understand, and value the rugged and remote high desert landscape of the Great Rift Region.
About the National Park Service
More than 20,000 National Park Service employees care for America's 419 national parks and work with communities across the nation to help preserve local history and create close-to-home recreational opportunities.
About our Partners
Youth from across the state will be participating in this event through the efforts of the Idaho Out-of-School Network (ION) with a generous grant from the Idaho Space Grant Consortium (ISGC). ION helps ensure Idaho's youth have access to safe, active and quality learning experiences in out of school time. ISGC provides easily accessible, highly flexible programs that focus on current and ongoing NASA initiatives. Additional support for this event has been provided by the Craters of the Moon Natural History Association (NHA). The NHA assists the National Park Service with interpretive, educational, and scientific activities at Craters of the Moon National Monument and Preserve.
Last updated: July 15, 2019