Kids & Youth

CRATERS OF THE MOON IS AN
OUT OF THIS WORLD PLACE TO BE A KID!
Where else can you climb a volcano and explore a lava tube cave all in an afternoon? We invite you to visit the moon by participating in these activities both here and at home:
Become a Junior Ranger and help take care of your park! There are several ways to participate in our Junior Ranger program: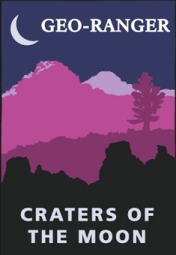 Geo-Rangers On-line
Become a Geo-Ranger! Download a copy of the Geo-Ranger Manual (pdf) here, complete the activities and mail, or e-mail, the completed booklet back to Craters of the Moon. Upon completion, you will receive a free Craters of the Moon sticker from the other Rangers at Craters of the Moon.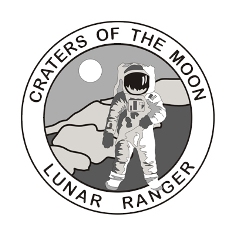 Lunar Ranger Booklet
Explore Craters of the Moon, the moon...and beyond! Pick up a free copy of the Lunar Ranger program booklet at the visitor center and earn a Lunar Ranger mission patch by completing the fun activities. Follow in the footsteps of the astronauts by learning more about your backyard before reaching for the stars!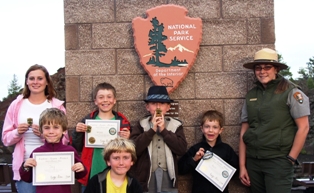 Junior Ranger Evening Program
Learn how to be a Ranger by doing stuff that Rangers do to help take care of the park. Earn a Junior Ranger badge. For kids of all ages. Meet at campground amphitheater during the summer months. Click here for the latest schedule.