Winter Driving Safety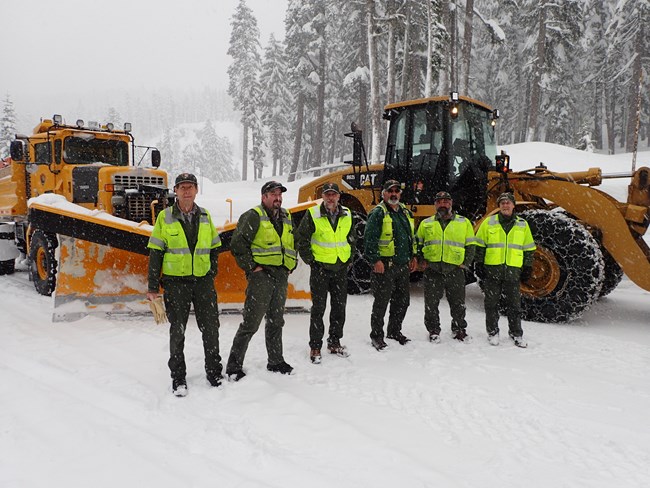 Meet the Crew
Crater Lake National Park is characterized by very snowy winters (and falls and springs, and sometimes summers). Snow plow drivers work tirelessly to keep Highway 62 and Munson Valley Road (the road to Rim Village) plowed and open throughout the winter.

Expect to encounter snow removal equipment at any time during your visit. Snow plows and rotaries are big and heavy and can cause severe damage when involved in collisions with other vehicles. Drive with caution and give our Road Crew plenty of space to do their jobs.

Just because a road is plowed does not mean that all vehicles and drivers are equipped for it. Make your visit a safe one—research conditions, assess your vehicle, and plan ahead. Watch our 4-minute winter driving safety video to learn more.

BEFORE YOU ARRIVE
Check the conditions—Check the weather forecast and webcams. For road conditions or closures outside the park, visit TripCheck. Be advised that during severe winter storms the last 3 miles to Rim Village are often closed.
Assess your vehicle and winter driving skills—Check your brakes, heater/defroster, lights, and wipers. Ask yourself if you and your vehicle are equipped to climb a mountain on winding roads that are covered in packed snow and ice.
Install traction tires or carry chains—These are required when traveling through the park.

Traction tires are studded tires, retractable studded tires, or other tires that meet the tire industry definition as suitable for use in severe snow conditions. Traction tires are marked with a mountain/snowflake emblem on the sidewall.
Chains should be in good working order and should fit your tires correctly. Practice putting them on your vehicle BEFORE you actually need them.

Fill up on fuel—Don't let your vehicle fall below half a tank on winter trips. There is no gasoline, diesel, or electric charging available in the park from late October to late May.
Pack a basic winter survival kit—Include an ice scraper, flashlight, batteries, blanket, snacks, water, warm coat, hat, gloves, boots, and first-aid kit.
AT THE PARK
Slow your speed—Drive for the conditions. Remember that the posted speed limit is not always the safe speed to drive. When you see a plow coming towards you, gently decelerate so that as you pass the plow you are moving at a reduced speed. It also helps to slowly pull over to the right as far as possible while you are decelerating.
Keep alert—Be mentally prepared to meet another vehicle or a plow as you drive around each corner.
Give em space—When following a vehicle or a plow, do not follow closely. Remember that the standard rule for following another vehicle, the "Two-second Rule," is designed for driving on dry roads. In winter conditions you will need much more distance to stop if the other vehicle encounters an obstacle in the road, which is common.
Stay in your lane—Never drive in the wrong lane because it has been plowed and your lane has not. Do not drive in another vehicle's tracks when the tracks do not stay in your lane.
Make your presence known—Don't assume that another vehicle sees you. Visibility is often poor due to blind spots, ice- or fog-covered windows, white-outs, or darkness. When driving in the vicinity of a plow, turn on your headlights and even your emergency lights to make yourself more noticeable.
Wait to pass—Do not pass a plow unless you can be sure the way is clear or you are waved through. If you approach a rotary blowing to the left, across the two-lane road, do not drive through or under the stream of snow. Rather, come to a stop, and only pass when the operator has seen you, stopped, and moved the rotary's chute to the right so it won't blow snow on your vehicle as you pass by.
Last updated: March 2, 2019