Permits & Reservations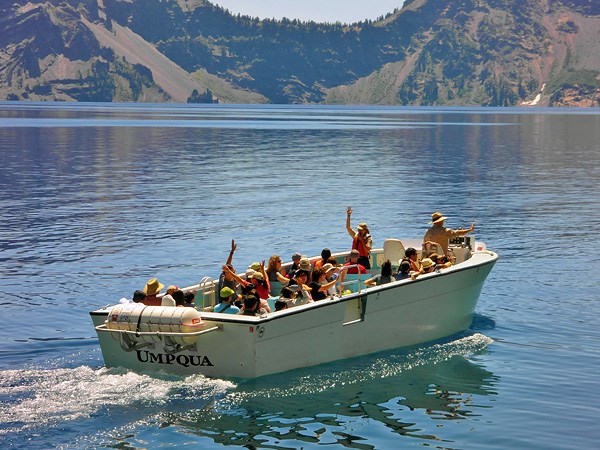 Reservations
Reservations are not needed to enter the park. The park is open 24 hours a day.
Advance reservations can be made for the park's hotels, one of the park's campgrounds, and boat tours on Crater Lake. These services are operated by a private company called
Crater Lake Hospitality
. You can make reservations online or by calling 866-292-6720.
Advance reservations can also be made for trolley tours around Crater Lake. They are operated by a different company called
Crater Lake Trolley
. You can make reservations online or by calling 541-882-1896.
Backcountry Permits
Permits are required for overnight backpacking in the park. Learn more about obtaining a backcountry permit.
Special Use Permits
Most special events and activities held within the park require a Special Use Permit. A Special Use Permit is required for activities that provide a benefit to an individual, group, or organization, rather than the public at large, and for activities that require some degree of management by the National Park Service. The goal of the park in issuing a permit is to ensure that the permitted activity does not interfere with the enjoyment of the park by other visitors and that the natural and cultural resources of the park are protected. Activities and events that require Special Use Permits include (but are not limited to):

Filming/Photography (permit information, long form application, short form application, map)
Wedding Ceremonies (permit information, map, application)
Scattering of Ashes (permit information, map)
Other Special Events such as Rallies, Sporting Events, Large Backcountry Camping Groups, and Large Picnic Groups (application)

Special Use Permit applications and materials may be submitted to:
Crater Lake National Park
Attn: SUP Coordinator
P.O. Box 7
Crater Lake, OR 97604
541-594-3050 (fax)
email
Please allow 4 to 6 weeks for processing. Any application fees must be received prior to processing. Additional fees may apply.
Commercial Use Authorizations
Commercial Use Authorization permits are required of all individuals, organizations, or businesses who lead commercial trips within the park or in other ways receive monetary gain or profit from commercial activities that take place within the park.

Please visit our Commercial Use Authorization page to learn more about CUAs at Crater Lake.
Last updated: April 20, 2021