Safety
Visit our keyboard shortcuts docs for details
Duration:

9 minutes, 24 seconds
"The Unprepared" is a short film made by Congaree National Park staff, with help from park volunteers and Eastern National staff. This short film includes messaging to educate visitors about Preventive Search and Rescue (PSAR). Inspired by campy B-horror films, "The Unprepared" was created to educate folks on how to come prepared to the wilderness while also being entertaining. Voice over for Audio Description by Amanda Hardin. Music by David Fesliyan at Fesliyanstudios.com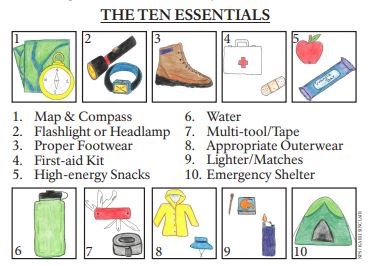 Remember The Ten Essentials
The Ten Essentials are a collection of first aid and emergency items that can help you in the event of minor injuries, sudden weather changes, or unexpected delays.

The Ten Essentials are only the basic items you should have with you. You may need additional items depending on current conditions and the activity in which you participate (e.g. life jacket/PFD, bug spray, personal locator beacon). Always check alerts and conditions before you head out. Also check out trail information and hiking safety information.
In Case of Emergency, Dial 9-1-1
We want everyone to have a safe and enjoyable visit to Congaree National Park. You can make sure that your visit is a safe and pleasant one by following a few safety guidelines:
Know before you arrive what you need to have a safe hiking trip or outing on the water.
If something seems dangerous, don't do it! People are injured every year in national parks by doing things such as crossing a stream improperly or straying off of marked trails. If you have a bad feeling about a situation, it is best to always play it safe.
Do not be afraid to say something if you see somebody else being unsafe. If you feel uncomfortable, find a park ranger and let them know so that they can notify the proper people to handle a situation.
If you see something that could be a potential safety hazard, let park staff know so that they can take care of it as soon as possible. This helps park staff keep other visitors safe from harm.
If you get lost, stay in one place! This will prevent you from getting lost even further, and helps rescuers reach you quicker.
If there is an emergency, call 9-1-1. Cell service can be unreliable in the park, so you may have to find a place where there is reception, or send someone with a cell phone to make the call. Calling 9-1-1 helps emergency responders know your exact location and arrive sooner.
Last updated: February 8, 2023