For Kids
Welcome to the place where you can find all the ways to be involved with National Parks as a young person! Colorado National Monument is only one of over 420 national park sites, and you can do more than be a Junior Ranger. Check out these links to other programs meant just for you, or keep scrolling down if you're working on a school-related project.
Working on a school-related project?
Or just looking for more info about Colorado National Monument? Check out these webpages on our site: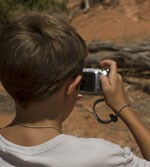 Videos Made by Teens (2012)
Check out some movies, made by middle schoolers, about the Monument.


Last updated: June 5, 2023