Camping
City of Rocks Campground
During summer months we recommend getting reservations in advance, especially on weekends and holidays. Off season camping is first-come first-served.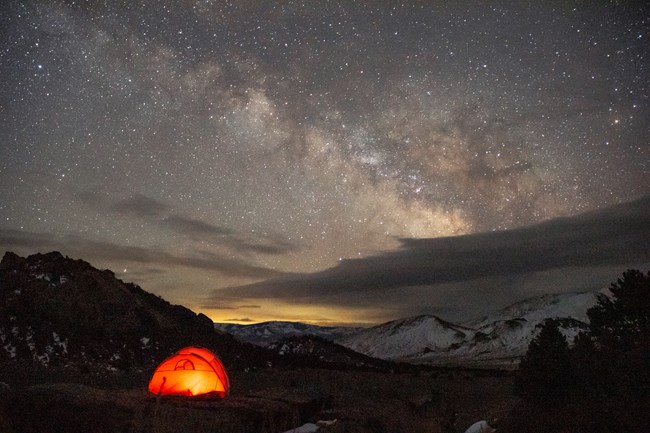 Camping in City of Rocks is a great way to enjoy being out in nature. Relax beneath the cool shade of aspen, juniper, mountain mahogany, or pine. Spend the night surrounded by impressive granite formations and starry skies. There are 64 standard campsites and 3 group sites to choose from with easy access to hiking trails and vistas.
All campsites have a fire-ring/ground grill and a picnic table.
Clean vault toilets are located in central areas.
Drinking water is available at Bath Rock and Emery Pass Picnic Area (April-October depending on conditions).
Please be advised, many campsites in the Reserve do not allow Recreational Vehicles. A recreational vehicle is defined as: any vehicle that is made, or converted for recreation, camping, or sleeping use. Recreational vehicles are welcome in the following sites as well as group campsites:

TENT ONLY Campsites
01, 02, 08, 09, 10, 15, 16, 17, 18, 23, 24, 31, 32, 36, 37, 39, 40, 41, 42, 43, 44, 45, 48, 49, 52, 53, 54, 55, 58, 59, 60, 61
SMALL RV Campsites
up to 18 ft
03, 04, 06, 19, 21, 25, 26, 27, 28, 29, 30, 50, 56
MEDIUM RV Campsites
up to 28 ft
05, 07, 11, 12, 13, 14, 20, 22, 33, 34, 35, 38, 46, 47, 51, 57, 62, 63, 64

Backcountry Camping
City of Rocks offers designated back country camping in the Indian Grove area. Permits are required for back country camping, visit the backcountry camping page for more information.
Group Campsites
up to 25 people, 7 motor vehicles maximum
Twin Sisters
Bread Loaves
Juniper
Equestrian Camping
Juniper Group Site: features a corral, standard campsite amenities, and a vault toilet. Please note: there is no running water at this site. Plan to bring water with you, or arrangements can be made to get it delivered for a fee.
Smoky Mountain Campground: 6 sites with water, electricity, paved camping spurs, corrals, and showers. See Smoky Mountain section below for more information.
---
Want to see what the campsites look like before you come? Check out the photo gallery below!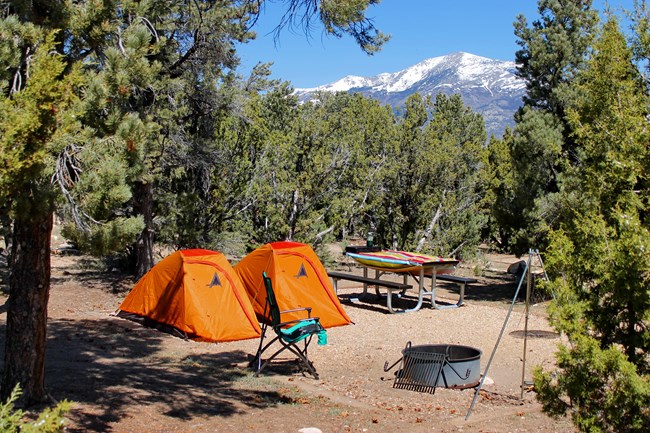 Smoky Mountain Campground
Smoky Mountain Campground is conveniently located just two miles away from the Visitor Center and services in the town of Almo.

There are 38 campsites available, 9 of which are pull-through. Sites 11 and 24 are designated ADA accessible. A separate loop with 6 sites accommodates equestrian campers. Each site includes:
water service May-September
30 amp electrical hook-ups
fire-ring/ground grill
picnic table
partial shade
There are flush toilets and showers open May-September and a vault toilet open year-round at the equestrian trail head. An RV dump station is provided near the campground entrance.

Click here for information on making a reservation.
Help Keep Our Skies Dark
To help preserve our exceptional starry skies and nocturnal habitat, City of Rocks doesn't use any artificial lighting in the Reserve. Our administrative buildings and overnight facilities outside the Reserve are equipped with dark sky friendly light fixtures. These fixtures follow principals for responsible outdoor lighting to help reduce light pollution. In order to maintain the precious natural darkness for everyone to enjoy, these principals should also be implemented when camping in City of Rocks. Be mindful and limit the light you use camping, especially excessively bright light that points up toward the sky or affects other people around you. All unnecessary lighting should be extinguished no later than 10 pm to promote Dark Hours.
Principals for Responsible Outdoor Lighting
Light only what you need. Light is useful for finding your way or performing specific tasks. Only light areas when and where you need it.
Shield lights and direct them down. Avoid pointing lights up toward the sky. Direct them down, use shields to reduce glare, and shine light only where it is needed.
Use the lowest light level necessary. Light levels are measured in lumens, check your light source and use the lowest lumens needed for your objective.
Install motion detectors and timers. Outdoor lighting should be controlled using switches, timers, and/or motion sensors so that they are only on when needed.
Use warm colored lights. Light temperature is rated using the Kelvin scale. Low ratings (below 3000) are considered warm and generally emit less harmful blue light.
Camping Rules:
Pay fees: online, at designated fee areas, at the Visitor Center, or to our Fee Collection Ranger
Walk-in campers can only pay for 1 night at a time
Length of stay is limited to 14 days in any 30-day period
Pets must be on a leash and not left unattended, please clean up after your pets
Gathering of firewood is prohibited
Use established campsites and fire rings only
Fireworks are prohibited at all times
Quiet hours are between 10:00 pm and 7:00 am
City of Rocks: maximum of 8 people, 2 vehicles, and 2 tents per site
Smoky Mountain: maximum of 8 people, 2 vehicles, and 2 tents per site
Check-in 2:00 pm and check-out 1:00 pm
City of Rocks is a trash free Reserve. If you pack it in, please pack it out
Only one camping unit with built in sleeping accommodations (motorized or towed) is allowed per site. Campsites are limited to a maximum of 8 people. All vehicles and camping equipment must fit within designated areas. In Smoky Mountain Campground tents must fit on the tent pad and all vehicles must pay the Motor Vehicle Entrance Fee (MVEF) or have an Idaho Parks Passport sticker. See examples below.

Equestrian Rules:
Help us maintain scenic quality and natural resources by adhering to the following:
Do not tie stock directly to trees, please use the corrals
Do not take stock animals through the main camping loop in Smoky Mountain
Use weed-free hay or pellets
Remove manure and excess hay from sites
If possible use pellets instead of hay or suspend hay in netting
Keep horses away from potable water spigots and electrical pedestals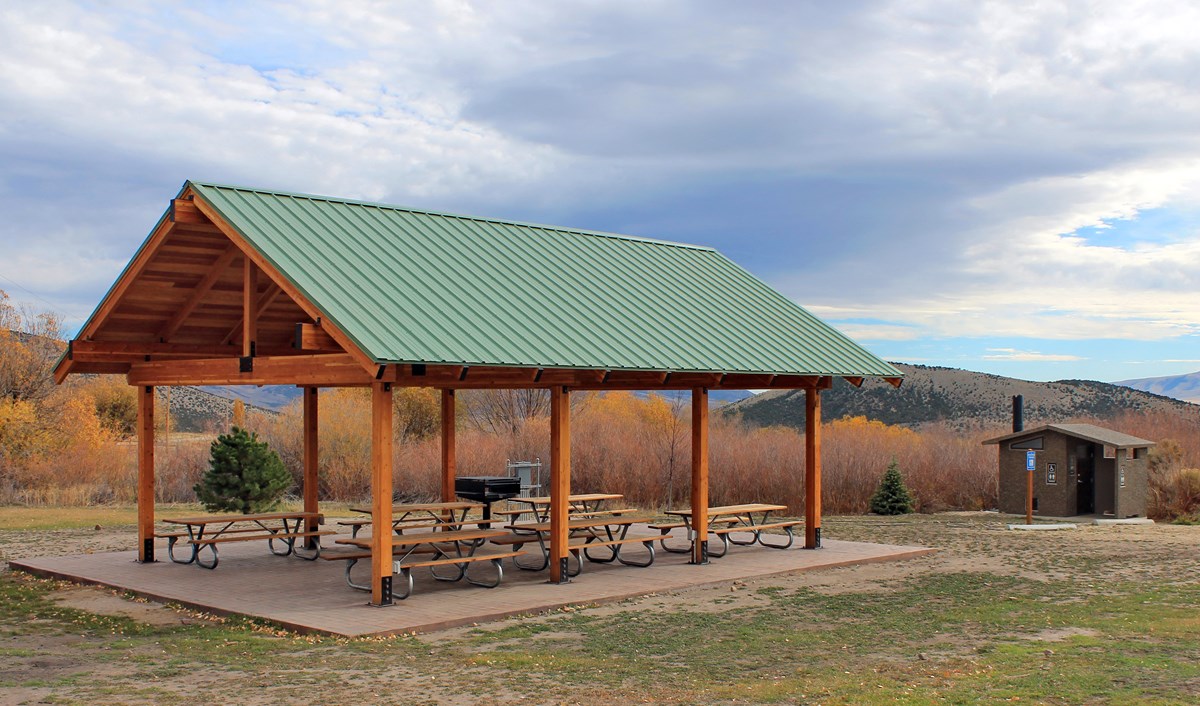 Last updated: August 17, 2022