Attractions Nearby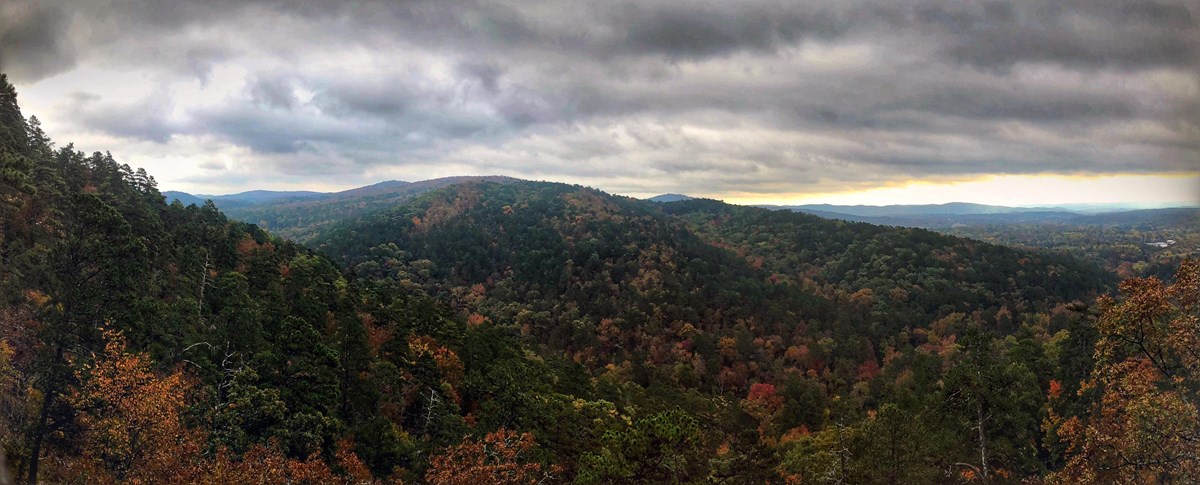 National Park Service sites in Arkansas
Hot Springs National Park - 55 miles
Hot Springs National Park has a rich cultural past. The grand architecture of our historic bathhouses is equally matched by the natural curiosities that have been drawing people here for hundreds of years. Ancient thermal springs, mountain views, incredible geology, forested hikes, and abundant creeks – all in the middle of town – make Hot Springs National Park a unique and beautiful destination.

Arkansas Post National Memorial - 100 miles
Located at the confluence of two rivers, Arkansas Post has served as a gathering place for many cultures throughout human history - it represents cultural cooperation, conflict, synthesis, and diversity.

Buffalo National River - 110 miles
Established in 1972, Buffalo National River flows freely for 135 miles and is one of the few remaining undammed rivers in the lower 48 states. Once you arrive, prepare to journey from running rapids to quiet pools while surrounded by massive bluffs as you cruise through the Ozark Mountains down to the White River.

President William Jefferson Clinton Birthplace Home National Historic Site - 115 miles
Named for the father who died shortly before his birth, William Jefferson Blythe III later became the 42nd President of the United States. In this place, the experiences shared with his mother & grandparents in rural Arkansas developed the broad views on race relations, social justice, and public service that defined his presidency and life after the White House. For Bill Clinton, "Hope was home."

Fort Smith National Historic Site - 165 miles
Explore life on the edge of frontier and Indian Territory through the stories of soldiers, the Trail of Tears, scandals, outlaws, and lawmen who pursued them. From the establishment of the first Fort Smith on December 25, 1817, to the final days of Judge Isaac C. Parker's jurisdiction over Indian Territory in 1896, Fort Smith National Historic Site preserves almost 80 years of history.

Pea Ridge National Military Park - 220 miles
On March 7-8, 1862, over 23,000 soldiers fought here to decide the fate of Missouri and was a turning point of the war in the West. The 4,300 acre battlefield honors those who fought and died on these grounds. Pea Ridge was the most pivotal Civil War battle west of the Mississippi River and is one of the most intact Civil War battlefields in the United States.

Trail of Tears National Historic Trail - various locations across the state
Remember and commemorate the survival of the Cherokee people, forcefully removed from their homelands in Georgia, Alabama, and Tennessee to live in Indian Territory, now Oklahoma. They traveled by foot, horse, wagon, or steamboat in 1838-1839.

Note - All mileage is approximated from Little Rock Central High School NHS


Other Federal Public Lands and Facilities in Arkansas
US Army Corps of Engineers
Outdoor opportunities abound at lakes and campgrounds throughout the state and across the Little Rock and Vicksburg Districts.


US Fish & Wildlife Service
10 National Wildlife Refuges are scattered across Arkansas in a diverse network of lands and waters dedicated to conserving America's rich fish and wildlife heritage.


US Forest Service
The Ouachita and Ozark-St. Francis National Forests cover 3 million acres across Arkansas and southeastern Oklahoma. Find opportunities for camping and hiking, swimming and biking, scenic driving and trail riding, and many more recreational activities.


William J. Clinton Presidential Library and Museum
The Clinton Presidential Library and Museum is located within the Clinton Presidential Center and Park . In addition to the archival collections and research facilities, the Clinton Presidential Library and Museum features exhibits, special events, and educational programs. The museum includes replicas of the Oval Office and the Cabinet Room. Permanent exhibits utilize documents, photographs, videos and interactive stations. A timeline and alcoves highlight domestic and foreign policy, as well as life in the White House.
Area Information

For more information about other attractions in Litle Rock and around, visit these sites:
Little Rock Convention & Visitors Bureau
The Little Rock Convention & Visitors Bureau (LRCVB) is the official destination organization for the City of Little Rock.
Arkansas Heritage
The Department of Arkansas Heritage was created to preserve and promote Arkansas's heritage as a source of pride and enjoyment for all. It consists of eight divisions (four museums and four heritage resource divisions) each providing Arkansas information resources and unique contributions to the preservation and promotion of Arkansas heritage.
Arkansas State Parks
Arkansas State Parks and its museums cover 54,400 acres of forest, wetlands, fish and wildlife habitat, outdoor recreation facilities and unique historic and cultural resources. The system includes 1,100 buildings (including 183 historic structures), six National Historic Landmarks, a National Natural Landmark, 16 sites on the National Register of Historic Places, and War Memorial Stadium.
Arkansas Tourism
Arkansas provides endless adventures. Take time to enjoy all the opportunities for outdoor recreation, enjoy nature on a classic hiking trail or learn about the history and culture of The Natural State.
Last updated: September 28, 2021