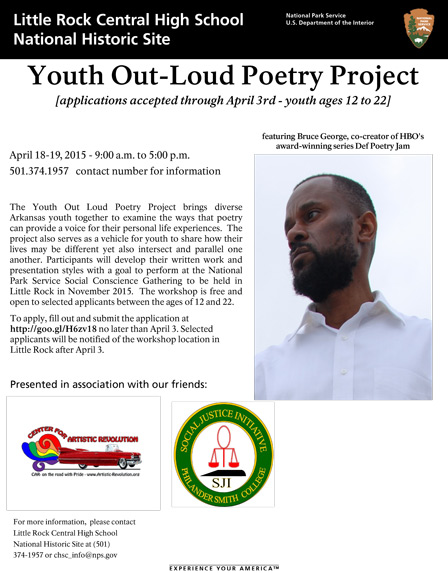 News Release Date:
March 22, 2015
Contact: Jodi Morris, 501-374-1957
Little Rock Central High School NHS presents the Youth Out Loud Poetry Project
[applications now being accepted - youth ages 12 to 22]
Little  Rock Central High School National Historic Site, in partnership with the Center for Artistic Revolution and the Social Justice Initiative at Philander Smith College, presents the Youth Out Loud Poetry Project, a creative immersion poetry workshop focused on writing and presentation.The two day event will be held on Saturday and Sunday, April 18-19, from 9:00 a.m. to 5:00 p.m. in Little Rock.
The Youth Out Loud Poetry Project provides diverse Arkansas youth an opportunity to use poetry as mass media expression and to socially communicate their life experiences. The project is utilized as a vehicle of self-validation and empowerment as the participants discover how their lives also intersect and parallel one another.Participants will develop their written work and presentation styles with a goal to perform at a venue in Little Rock and at the National Park Service Social Conscience Gathering to be held in Little Rock in November 2015.
Facilitating the two-day workshop will be executive producer, writer, poet, and activist Bruce George.George, a Peabody Award recipient as co-founder of HBO's Def Poetry Jam, has written poetry, prose and articles for over 35 years and his work has been published in major magazines, anthologies, and literary publications.
The workshop is open to selected applicants between the ages of 12 and 22;to apply, you must complete the application at http://goo.gl/H6zv18 by April 3rd. Selected applicants will be notified of the workshop location after April 3rd.