Mather Gorge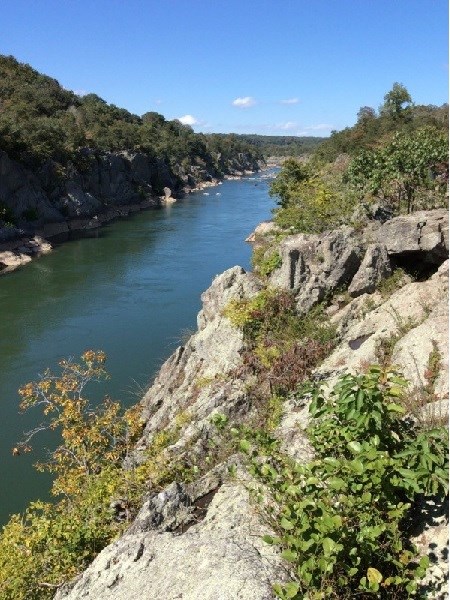 PERSPECTIVE
- Mather Gorge
This gorge runs downriver from Great Falls, Maryland (MM 13). Steep walls funnel the Potomac River down to a 100 foot width. The relatively straight shape may be due to the Potomac following a fault line (fracture) or caused by progressive erosion as the falls dug backwards from the Atlantic Seaboard Fall Line. A similar process is happening at Niagara Falls in New York. Niagara Fall's current location is 7 miles upriver from where it was 12,500 years ago. In the case of Great Falls, it is estimated that it took about 30,000 years for the Falls to migrate here from the Fall Line to the east.
There are several ways to observe the Gorge, both from the inside as well as from above. Billy Goat Trail A traverses the cliff top and also drops down to Purplehorse Beach. Looking from both high above the Potomac as well as from its banks provides a variety of perspectives for appreciating this location.
Discussion Question
: How do multiple perspectives help us explore and better understand complex sites/issues?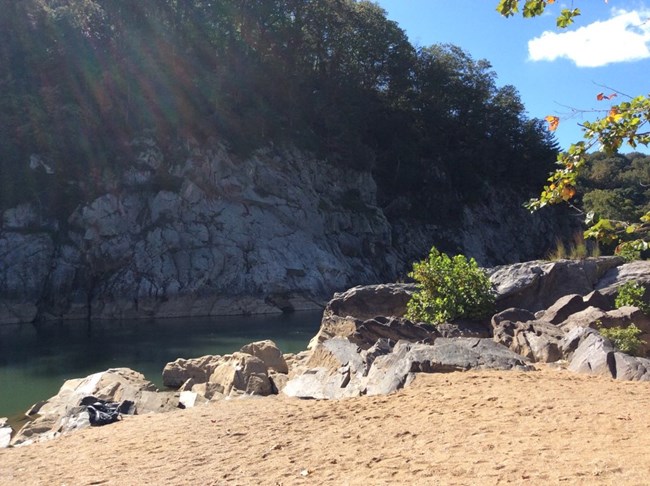 Additional C&O Geology pages:
Locks 15-20
|
Olmsted Island
|
Flooding
|
Purplehorse Beach
|
Pothole Alley
|
Widewater
|
Lamprophyre Dikes
|
Devil's Eyebrow
, |
Paw Paw Tunnel
|
Cumberland Coal
Return to main
Rock Talk
page.
Last updated: April 23, 2021