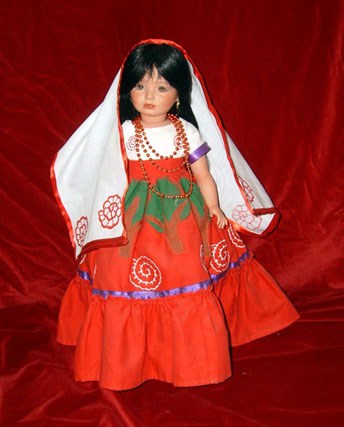 Capital: Chetumal
The crisp white headscarf and tunic, as well as the red ruffled skirt are adorned with red caracoles (spirals or conch shells) representing Quintana Roo's timeless connection with the sea. Red is the Mayan color for the east and Quintana Roo is the easternmost Mexican state. The green trees painted on the apron represent the historical wealth of Quintana Roo's tropical forests. Traditionally, the Mayan people represented the cardinal directions with specific colors: red is east, yellow is south, white is north, and black is west. Green is their sacred color.
The Mayas, concentrated in Yucatan, Quintana Roo, and Campeche, and numbering over 700,000, are one of the larger indigenous groups in the country. The Mayenses are a subgroup that inherited only certain influences from the classic Maya. The majority of both groups has integrated with the general population and adapted a modern lifestyle. As a result, their customs and traditions have been diluted. Most of the Mayas live in Yucatan, cultivating henequén (maguey) and using the fibers to make various commercial products. Other handmade products include woven hats and embroidery.
One of Mexico's youngest states, Quintana Roo acquired statehood in 1974. Situated on the Caribbean Ocean side of the Yucatan peninsula, Quintana Roo has four ecosystems (areas where animals and their environment interact).
The forest, where growth reaches heights of some 80 feet, produces important commercial species such as gualacum, mahogany, cedar, rosewood, and palm trees. The mangroves, whose vegetation has both aquatic and aerial roots, serve as home to the manatee with origins going back 50 million years. The savanna has rain year-round.
The coral reed is an enormous natural barrier that offers shelter to innumerable species of sea life. Waves break over the whitish construction before running gently to the shore.
In the 1960's, Quintana Roo began developing Cancun to make it an internationally know resort. Now the beauty of the beaches and the proximity of Mayan ruins make tourism the leading local economic activity.
In addition to the beaches, the state has many beautiful lagoons and cenotes, underground water deposits formed by the filtration of rainwater through porous limestone. the best known is the Blue Cenote near Bacalar.
Did you know...?
The present name of the state dates from 1902, when the authorities of the Mexican Republic ordered that it be called Quintana Roo after Andrés de Quintana Roo, an illustrious lawyer born in the city of Mérida in 1787. Don Andrés married Doña Leona Vicario. They fought alongside one another for the independence of Mexico.