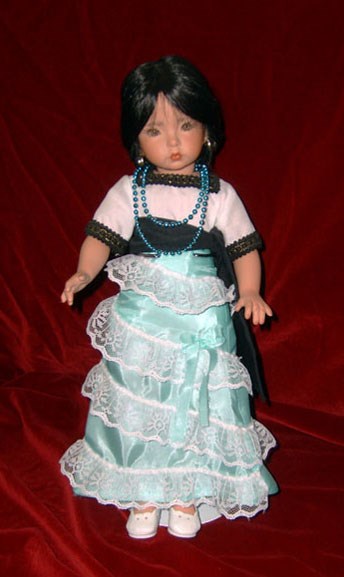 Capital: Campeche
Anchors adorn the neckline of the blouse and a rich froth of white lace curls around the blue skirt of this dress, just as Campeche curls around the Gulf of Mexico with land rich in natural treasures.
The state is more than 60% forested by precious and semiprecious tropical woods, including cedar, rosewood, mahogany, pich and chacán. It is dotted with lush mountains, valleys and natural pools, and boasts crops of sugarcane, apples, almonds, melons and citrus. Campeche is also blessed with several islands and a generous coastline holding Los Términos, the largest of many lagoons.
The state's fisheries export large quantities of shrimp to the United States. In recent years, oil exploration has also had a significant role in the economy.
Campeche is known as El Mundo de Maya (The World of the Maya). Tourist attractions include both the beaches and areas with abundant vegetation, especially those with evidence of the Mayan culture, such as Xtampak, Hochob and Edzná. Campeche also features areas of fine colonial architecture like the former Franciscan convent, the San José Museum and the state cathedral.
The Mayas, numbering over 700,000, are today one of the larger indigenous groups in Mexico and are concentrated in Yucatan, Quintana Roo, and Campeche. The Mayenses are a subgroup that inherited only certain influences from the classic Maya. Some groups maintain their customs and traditions, but the majority has adapted modern lifestyles. As a result, many groups have been diluted throgh integration with the general population. Most of the Mayas live in Yucatan, cultivating henequén (maguey) and using the fibers to make various commercial products. Other handmade products include woven hats and embroidery.
Campeche specializes in distinctive orange and black handicrafts made from tortoisehell and coral from El Carmen Island and Terminos Lagoon. Wooden furniture comes from the southeastern area of the state. Pottery, articles made from jipijapa palm, fan palm, xist, sisal, cotton textiles and embroidery, come from the sierra and Los Chenes region. Other handicrafts include furniture made from fine woods, the Tepakán ceramics of Cakinií and silk and cotton thread for making hammocks and fishing nets.
Did you know...?
The name Campeche is a Maya origin, and has three possible meanings:
The words can, meaning "snake", and pech, meaning "tick", together would mean "the place of snakes and ticks"...
or ah, meaning "great lord", and kin, meaning "priest who worships the sun", and pech, the second name of a priest, all together would mean "the place inhabited by the great lord Pech, sun-worshipper"...
or, since snakes are depicted on virtually all the buildings in Campeche's archeological sites, can pech could mean "the place where the snake is worshipped".