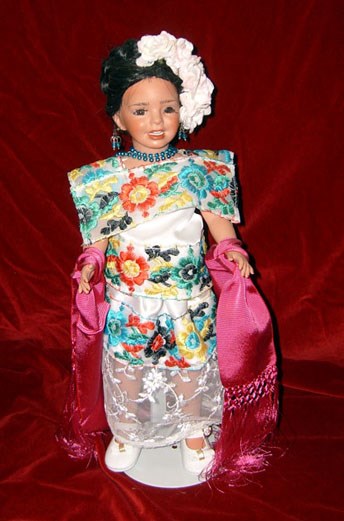 Capital: Merida
The white tunic, called a huipl or kud, has bright flowers adorning the square draped collar with another colorful band of embroidered blossoms above the broad lace hem. The hair is worn in a tuch, pulled back in a figure eight and secured with ribbons and flowers.
The Mayas are one of the larger indigenous groups of Mexico, numbering over 700,000. They live mainly in Yucatan, Quintana Roo, and Campeche. The Mayenses are a subgroup that inherited only certain influences from the classic Maya. The majority of these groups have integrated with the general population, but some still maintain their customs and traditions.
Most of the Mayas live in Yucatan, cultivating henequen, a fiber made from the maguey plant, and using the fibers to make various commercial products. At one time, henequen was a major Yucatan product, but over several decades, the displacement of maguey and the development of synthetic fibers have reduced production. Other handmade products include woven hats and embroidery.
The state of Yucatan rose gradually from the bottom of the ocean to take its current form. Most of the peninsula consists of soil-covered limestone. Rainwater filters through the subsoil and slowly dissolves the limestone, forming caverns where the water forms cenotes, from the Maya tz'ono'to, meaning "pool". In ancient times, these 8 to 125-meter deep pools were the main source of fresh water.
Yucatan's abundant flora includes wild trees such as cedar, chakah, oak, and jabin. The pich, a shade tree with edible seeds, reaches a height of up to 30 meters. The ceiba or yaxche, the sacred Maya tree, reaches a height of 7 to 40 meters. Its wood is used to make posts, its fruit provides a type of cork for life belts, its seeds provide oil, and its bark is used to treat wounds and intestinal infections.
Since pre-Hispanic times, Yucatan has been one of the world's major beekeepers, producing honey, pollen, and royal jelly. The pink flamingo finds a protected existence in the Ria Lagartos and Ria Celestun, part of a Biospheric Reserve established in 1979. These bright birds require undisturbed, shallow saltwater rich in mollusks, crustaceans, larvae, and algae, with constant tropical temperatures.
African influence is strong in the Yucatan peninsula, appearing in many forms, from the marimba to mulattos (people of mixed race).
Did you know...?
Yucatan received its name from a misunderstanding. When the Spaniards asked the Mayas what the land was called, the Mayas did not understand them and replied "uh yu uthaan," meaning "listen how they speak." But the Spaniards named the land according to what they heard: Yucatan. The original, ancient name actually might have been Mayab (Ma'ya'ab), which in Maya language means "place of little water".