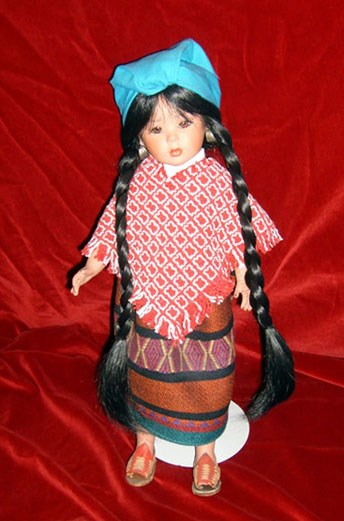 Capital: Queretaro
The white blouse, the rustic poncho woven with bits of red, the long woolen skirt ringed with earthen colors, and the sky blue rebozo head wrap: all reflect the unique geography of Queretaro, founded by the Spanish in 1531 on the site of an Otomi village.
With the towering Sierra Gorda looming over Queretaro's northeastern borders, clouds moving in from the Gulf of Mexico cannot continue on their way, so the northern desert of this small central state receives little rainfall. Summer rains do manage to reach the southern region, along with hail and frequent frosts in winter.
Queretaro's rugged geography includes portions of Mexico's Central Highland Plateau and large mountain ranges including the Sierra Madre Oriental, the Transversal Volcanic System and the Sierra Gorda.
Fantastic cacti with unusual shapes, beautiful symmetry, and colorful flowers grow in a limited area between Queretaro and Hidalgo. The demand for and unregulated exploitation of these plants, both in and outside Mexico's borders, has placed several species in danger of extinction. For example, the bisnaga gigante (a barrel cactus) also called espina de oro (golden thorn), now rarely appears in its natural habitat.
In the southern valleys, natural vegetation has given way to agriculture, mostly corn, along with alfalfa, onions, lettuce, sorghum, fodder, beans, barley, and cabbage. Queretaro's dairies also make it one of the states with the highest milk production in all Mexico.
Queretaro's main industrial activities, centered in the capital and San Juan del Rio, include textile manufacturing and assembly, food processing, metal fabrication, and chemicals.
Did you know...?
The word Queretaro dates to pre-Hispanic times when various peoples named the area according to its geographic features. The Tarascans of Michoacan called the spot just north of the city of Queretaro, now known as La Canada, Crettaro, or Querendaro, which means "place of the crags." But La Canada has the shape of an enormous court, like those used in pre-Hispanic times to play ball, which gives rise to other explanations. The Otomies called it Mxei, meaning "place where the ballgame is played." It was also called Ndamaxei, which means "the great ball court." The Aztecs or Mexicas named it Tlaxco, which has the same meaning. Finally, the Chichimexs called this spot Xico, which in their language also means "great ball court."