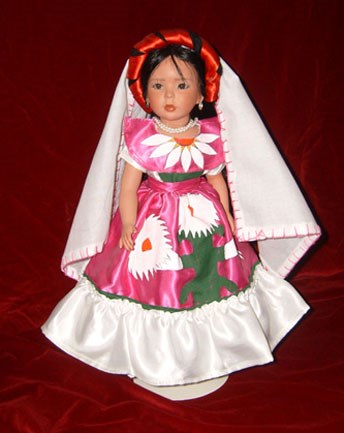 Capital: La Paz
The dramatically colorful cactus and pitaya flower form the centerpiece of this costume. The yellow-gold pitaya adorns the center of the blouse and the bold green cactus fills the red apron above the cool white ruffled hemline. Just as this state's burning cacti-studded deserts meet miles of white coastline, this dress reflects the dramatic contrasts of the peninsula.
Baja California Sur is the southern part of the peninsula of Baja California. A peninsula is a land area almost completely surrounded by water.
Bordered by the Pacific Ocean to the west and the Gulf of California to the east, it has the most islands and the longest coastline, more than 1,200 miles, of any Mexican state.
The sierras of San Francisco (where the Tres Vírgenes volcano is located), Guadalupe, and La Giganta form an almost continuous mountain range close to the coastline of the Gulf of California.
Two coastal lagoons in the north of the state, the Ojo de Liebre and San Ignacio, are federally protected breeding grounds for the grey whale.
Almost half-a-million tourists visit the sunny beaches of Baja California Sur annually. Fishing, salt extraction, agriculture, livestock, and the mining and production of plaster and phosphorite are all vital parts of the economy.
The indigenous people of Baja California Sur include the Pericues in the south, the Guaycuras in the central area, and the Cochimies in the north.
Did you know...?
One explanation of the name California involves a well-known novel by Spanish author, Garci Ordóñez de Montalvo title The Exploits of Esplandián. Ordóñez tells of a fantastic island, rich with gold and pearls, inhabited by women and governed by a queen name Calafia. Supposedly, when Spanish conquistadors were exploring the peninsular coastline, one of Hernán Cortés captains who was familiar with the novel, called the land California.
Other sources say that term stems from the Latin words calida fornax meaning "hot oven" and refer to the area's tremendously hot climate. Gradually, the name was modified and the peninsula became known as Antigua California (Old California), and later, Baja (lower) California.