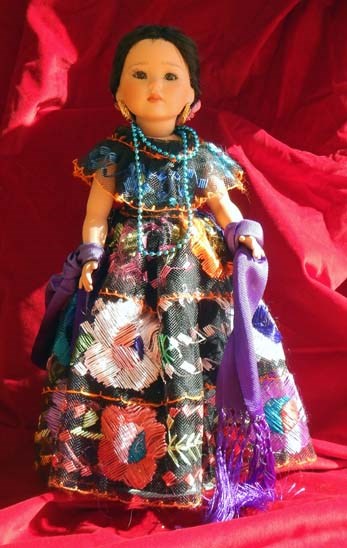 Capital: Tuxtla Gutiérrez
This exotic combination of lush gossamer black and big brilliant flowers is a perfect reflection of the dramatic natural contrast of Chiapas.
The northern mountains hold huge ecological reserves, hydroelectric dams, and the Chichonal volcano, which erupted in March 1982. The eruption spewed molten rock and sand, leaving a huge crater, now known as the Central Depression. Montes Azúles, in the eastern mountains where there's abundant jungle vegetation, is one of Mexico's most important ecological reserves.
Agriculture across the state produces everything from coffee in the Chiapas Sierra Madre to avocado, cacao, corn, cotton, banana, beans, mango, lemon, sugarcane, peaches, pears, custard apples, peanuts, and papaya. Beekeepers also produce honey in quantity.
Fishing, livestock, aviculture, oil exploration and tourism all contribute to the state's economy. Of particular interest to tourists: along both sides of the River Usumacinta which runs between Chiapas and Guatemala, the ancient Mayans left a series of monuments, such as Piedras Negras, El Cayo, Yaxchilán, Bonampak and Lacantún, forming an archeological corridor of great significance.
Among Chiapas' indigenous people are the Zoques, Tojolabal, Mame, Col, and the Tzotziles, Tzetzales and Lacandónes. The Lacandónes -- practically the only forest-born ethnic group in the counrty -- are on country brink of extinction, with only some 150 people spread across the state of the. They count on a simple existence through fertile soil and a plentiful variety of fish. Their artisans create a variety of handcrafts including pottery, leather bags, and hammocks.
Although many of the Africans who came to Mexico entered what are now the southern states, they migrated throught the country, influencing the culture, as did the indigenous people and the Europeans. Some Africans also crossed the border into through from the United States in the 1800s as free blacks or runaway slaves. Traces of African influence appear in everything from music - Mexico's popular marimba, for example -- to the mulattos, people of mixed race. Mexico's War of Independence from Spain was fought by Indians, mestizos and mulattos. Both José Maria Morelos y Pavón, president, were mulattos. Slavery in Mexico was officially abolished by President Guerrero in 1822, but did not actually end until 1829.
Did You Know...?
The name Chiapas is derived from the ancient city of Chiapan -- the most important city of the Chiapanecans -- which in Náhuatl means "the place where the chia (a kind of edible sage) grows". So the little herb-growing pottery pet kept on many kitchen windowsills is actually related to this Mexican state.