Welcome Teachers! 
You're invited to bring your students to Oakland and Magnolia Plantations. They will learn about 200 years of plantation life while covering topics like: Creole culture, slavery, architecture, agriculture, religion, and mechanization.

FREE guided tours are available by calling 318-352-0383, ext 200 or 201.

If you need assistance for your school group to travel to the park, transportation grants may be available.

If you can't visit the park, learn how to use Parks as Classrooms. We offer a growing variety of learning opportunities for students of all ages. Click on the links below to learn more:
Traveling Trunks

 - request one of our curriculum based traveling trunks. Our two trunks specifically deal with the Creole Culture and the Civil War. Each trunk contains lesson plans, videos, and numerous hands-on activities. Our trunks will allow your students to dress up like Civil War soldiers and experience the sensation of ginning cotton by hand. 

Lesson Plans

 - Learn about the rise of the "Bourbons" that ran Louisiana politics during Reconstruction with the Louisiana Populist lesson plan. Teachers, have your students use primary sources from Oakland Plantation to learn about the Duties of an Overseeer. 
Every summer, we also offer the opportunity for one teacher to come work with us as a Teacher Ranger Teacher, a professional development program for educators from K-12 schools.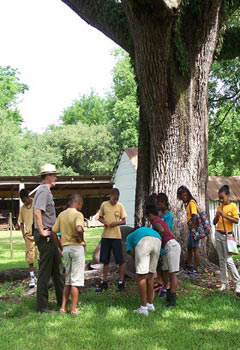 Last updated: February 28, 2018