Discover characteristics of many heirloom apples, apricots, cherries, peaches, pears, and plums, and other fruit varieties, found in orchards in Capitol Reef National Park's Fruita Historic District. To find out which trees are blooming or producing fruit, call (435) 425-3791. After the introduction, press #1 for visitor information, and then press #5 for the fruit hotline.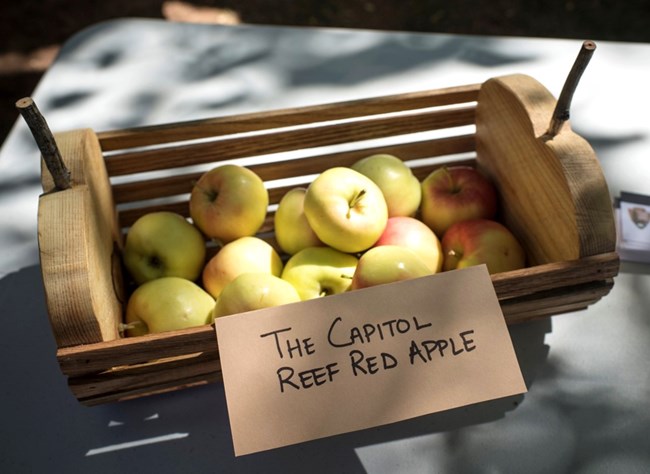 In the 1800s, there were ~14,000 varieties of apples in the United States. Now, about 90 varieties are grown for commercial use. Capitol Reef National Park has about two dozen, mostly heirloom varieties in the orchards. Twist the apple to make it easier to pick.

Ben Davis: The origin of this apple is debated, but there are references for it as early as 1799 or as late as 1880, in the southeastern part of the United States. Planted widely throughout the US, the Ben Davis developed many local synonyms, from Baltimore Pippin to Mortgage Lifter to Tenant Red. At maturity, the Ben Davis has a green base with deep red stripes, and is known for keeping up to a year, but is not known for a strong taste or nice texture. Ben Davis apples are found in the Nels Johnson Orchard.

Braeburn: Originally developed in New Zealand, the Braeburn was introduced to North America in 1952. Braeburns are a very popular apple variety, and found in many grocery stores, as well as in the Jackson Orchard.

Capitol Reef Red: The Capitol Reef Red was discovered as a unique variety in 1994. It is similar to Golden and Red Delicious apples, but generally has a pale yellow base, with some red on the shoulders and sides of the apple. Capitol Reef Reds grow in the Jackson Orchard.

Empire: A cross between McIntosh and Red Delicious, the Empire usually ripens in mid-September. It is a medium-sized, dark red apple, with white, sweet, crispy, and juicy flesh. Empire apples are found in the Jackson Orchard.

Fuji: A Japanese cultivar from the Ralls Janet and Red Delicious apples. The Fuji is a popular apple that requires a warm, frost-free season before it can be harvested. Fuji apples can keep for up to a year in the refrigerator, and retain their "toothsome firmness." Fuji apples are found in the Jackson Orchard.

Ginger Gold: The Ginger Gold was a chance seedling that appeared in a Winesap apple orchard after Hurricane Camille, in Lovingston, Virginia in 1969. The Ginger Gold is yellow when it is ripe, and can have a pink blush on the shoulders. Ginger Golds can keep up to six months, and are found in the Jackson and Mott orchards.

Golden Delicious: Despite having "delicious" in its name, the Golden Delicious is not related to Red Delicious apples. When ripe, the Golden Delicious is a pale yellow, but if it is picked before ripening, it will look chartreuse, or if picked overripe, it will be a dark yellow hue. This apple ripens from mid-September through late October, and can be used for pies and sauce, without added sugar. It also is popular for both hard and soft sweet ciders. Look for Golden Delicious apples in the Amasa Pierce, Chesnut, Gifford, Jackson, Max Krueger, and Mott orchards.

Gibson Golden: A variety of Golden Delicious, with many of the same qualities. The Gibson Golden ripens in October, and can be found in the Jackson Orchard.

Granny Smith: This well-known apple was discovered in Australia in the 1860s. By the 1930s, the apple was popular enough to be exported to England, and then France, Italy, Spain, and the United States. A Granny Smith apple tree is in the Max Krueger Orchard.

Grimes Golden: The Grimes Golden is a "dessert" apple with crisp, juicy, and sugary fruit. It is also used for ciders, but it doesn't keep well, so eat it fresh. There is a Grimes Golden apple tree in the Chesnut Orchard.

Jonathan: This popular heirloom apple was first developed in 1826 in New York. It is a medium to small apple, that is usually a pale yellow, but covered with red, and it sometimes is striped. Jonathan apples are in the Jackson, Max Krueger, Mott, and Nels Johnson orchards.

Lodi: The Lodi is a large green cooking apple and was selected in 1911 at the New York State Agricultural Experiment Station. The Lodi historically grew in Fruita, but is locally extinct. It is still sold at tree nurseries around the United States.

McIntosh: Discovered in Ontario, Canada in 1811, the McIntosh wasn't introduced to trade until 1870. Many other popular apples, such as the Empire and Spartan, are derived from the McIntosh. The trees ripen unevenly, so apples can be picked for a while, every few weeks, starting in October. McIntosh apples are in the Nels Johnson Orchard.

Prime Gold: An uncommon patented cultivar, the Prime Gold has yellow, russet-free fruit. It can be found in the Jackson Orchard.
Red Astrachan: This Russian apple has been cultivated for centuries, and was documented in Sweden in 1780, and introduced to Western Europe and England by 1816. The Red Astrachan arrived in the United States in 1835 and developed many folk names, like Abe Lincoln, because it has a long association with President Abraham Lincoln's home in Illinois. This dark red apple, with a blueish tinge, ripens from late July to September, and is found in the Nels Johnson Orchard.

Red Delicious: The most widely grown apple in the United States, the Red Delicious has been around 1895. Many varieties of Red Delicious have been cultivated, and many of them keep that distinct shape and red color. Amasa Pierce, Behunin, Chesnut, Gifford, Holt, Jackson, Max Krueger, Merin Smith, Mott, and 'Tine Oyler Place orchards all contain Red Delicious apples.

Red Delicious Oregon Spur II: The Oregon Spur II is a variety of Red Delicious, but has a better taste than what people expect with the Red Delicious. Oregon Spur II trees are in the Jackson Orchard.

Rhode Island Greening: Developed in Rhode Island in the 1700s, people spread the apple to Western Europe by the early 1800s. This apple is popular for fresh desserts and other culinary delicacies. The Rhode Island Greening starts out a deep grass green, and as it ripens, it develops yellowish hues, with brownish-red hues and greenish-white dots. Look for it in the Mott Orchard.

Rome Beauty: The Rome Beauty originated in Ohio in the 1820s, and became popular because it blooms late, and is a dependable producer in places with late frosts. This green and red apple can be found in the Gifford and Nels Johnson orchards.

Rubinette: Rubinette apples were first cultivated in Switzerland in the 1960s, as a cross between Golden Delicious and Cox's Orange Pippin apples. The Rubinette is an uncommon apple, but is planted in the Jackson Orchard.

Sixteen-Ounce Cooking: The origins of the sixteen-ounce cooking apple are unknown; it is not the same as the 20-ounce cooking apple. It might be a local variety, or a misnamed variety, but the apple tree (in Merin Smith Place) bears tart green apples with a splash of red.

Winesap: The Winesap was introduced to trade by 1817, but probably was cultivated for decades prior to that, in both Virginia and New Jersey. Winesap apples are a deep red, with some purplish stripes and darker splotches. These apples are favored for cooking applesauce, desserts, and for cider, and they grow throughout apple-growing regions. Winesap apples are planted in the Mott and Nels Johnson orchards.

Winter (Yellow) Banana: People with a good sense of smell sometimes can detect a hint of bananas when these apples are very ripe. The Winter Banana apple is a good dessert apple, with a mild flavor, but it can bruise easily in storage. Winter Bananas are pale yellow with a pinkish-red blush when ripe. This apple can be found in the Nels Johnson Orchard.

Winter Pearmain: This apple could be the oldest known apple in the English-speaking world. It dates back to at least 1200 CE (Common Era) in the United Kingdom. Winter Pearmains start out as green fruit, and become either pale yellow or red as they ripen. They are popular all-purpose apples and are planted in the Mott Orchard.

Yellow Transparent: A Russian apple imported to the United States in 1870, this variety is very popular for drying and cooking. Sometimes the Yellow Transparent is called White Transparent or Sultan. There are Yellow Transparents planted in the Mott Orchard and near the group site of the campground.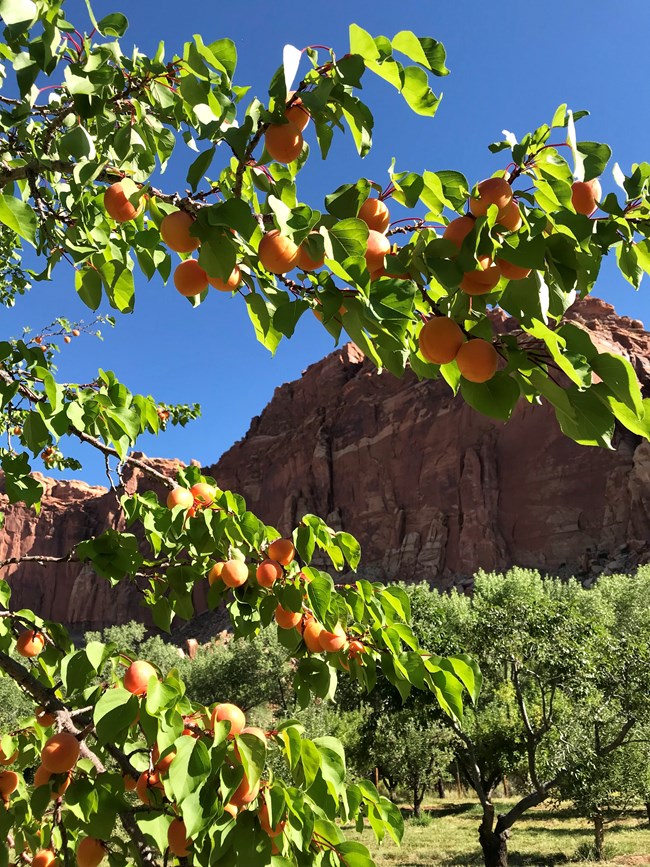 Apricots are one of the oldest domesticated fruits, originating in the Middle East or Asia, pre-2000 BCE (Before Common Era). Ripe apricots should just fall off the tree into your hand with a very gentle tug.

Blenheim: The Blenheim apricot, named for the Blenheim Palace in England, is renowned for its honey-like flavor. Even when ripe, the Blenheim (rosy, orange hue), will have green shoulders. Ripe apricots should just fall off the tree into your hand with a very gentle tug. These are delicate apricots that easily bruise. Blenheims have grown in Fruita in the past, but are not currently cultivated.

Chinese Sweet Pit: A clingstone (fruit clings to seed) apricot that has an edible pit, which tastes like almond. Chinese immigrants working on railroads could have introduced Chinese sweet pits to Utah. These apricots are planted in the Nels Johnson Orchard.

Moorpark: A popular apricot, originally developed in the 1860s, the Moorpark is good for shipping, canning, and drying. The outside of this freestone apricot is fuzz-free, with a deep yellow tone that blushes orange, while the inside is a deep orange, which is juicy and sweet. Thomas Jefferson grew Moorparks at Monticello, and the majority of apricots in Capitol Reef are Moorparks. Moorparks are in the Cass Mulford and Nels Johnson orchards.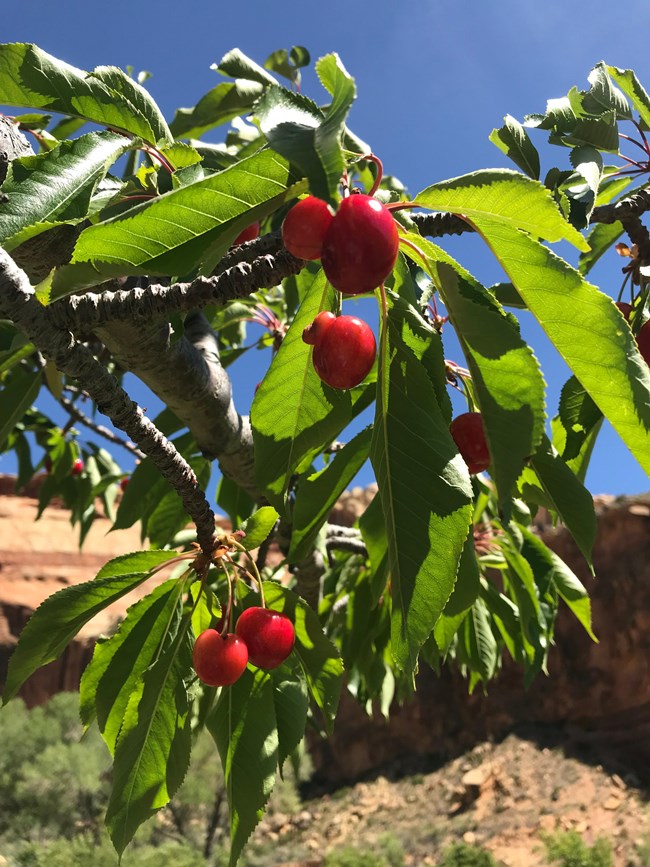 Since there are currently not many cherry trees, park staff harvest and pick cherries, which are then sold to visitors. All other fruit grown in the park is available for U-Pick when in season. Ask at the visitor center, or call the fruit hotline at (435) 425-3791; press #1 for visitor information, and then #5 for the fruit hotline.

Bing: Bing Cherries are named for Mr. Ah Bing, a Chinese American who helped Seth Lewelling develop this prize-winning cherry in 1875. Bing cherries are dark, deep red, with small russet dots. The flesh inside is a purple-red, coarse, firm, and sweet. They are the most produced sweet cherry in the United States, and are grown in the Holt and 'Tine Oyler orchards.

Montmorency: A French "pie" or sour cherry, developed the 17th century, the Montmorency has a rich, tart, and tangy flavor. The cherries are bright red, with a yellow flesh inside. In addition to pies, Montmorencies are used for juice, preserves, and jellies. They are planted in the Nels Johnson Orchard.

Utah Giant: Developed in Logan, Utah by the USDA (US Department of Agriculture) and Utah Agriculture Experiment Station in 1981. Utah Giants are in the Abie Clarke Orchard.
Grapes
Three known varieties of grapes were planted in Fruita to eat fresh and make juices, desserts, and wine. Grapes are no longer maintained by the park service, but may be picked by visitors (up to one pound per person per week).

Concord: A well-known dark purple grape that was first cultivated from wild grape seedlings in in the 1850s, in Massachusetts. It is used to make juices and desserts, and one vine might be in the Doc Inglesby Picnic Area.

Fox: The Fox grape is native to North America, and many popular grape varieties, like the Concord and Niagara, derive from it. One of the defining features of this grape is that it has a "slip-skin," which means the skin easily peels off the fruit. Look for Fox vines in the Jackson Orchard.

Niagara: A white or green grape that is highly valued for making white wines. This grape is also known as the White Concord, because it was a chance seedling found in the 1880s among the blue-black Concord grapes. Niagara grapes might grow along the fence between the Doc Inglesby Picnic Area and Nels Johnson Orchard.
Mulberries
While not intentionally cultivated in the Capitol Reef orchards, mulberry trees bear edible fruit that resemble and taste similar to large blackberries. Mulberries were widely planted throughout early Latter-Day Saint (Mormon) communities to support silkworm industry (sericulture) efforts. By the early 1900s, the silkworm industry of Utah was out of business, since it was less expensive to import silk from other places than to make one's own. Mulberry trees are planted throughout the Fruita Historic District, including in the picnic areas and by Ripple Rock Nature Center. Mulberries may be picked and eaten in the park (up to one pound per week per visitor).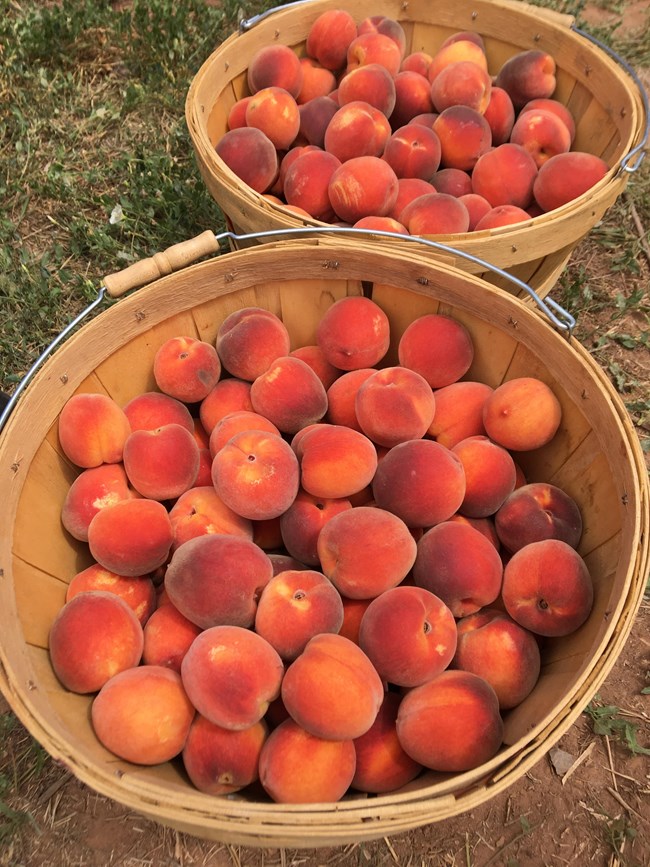 The oldest fossilized peach pits found in China are over 2.5 million years old and look the same as peach pits today. Peaches were originally cultivated in China ~2000 BCE.
Elberta:
A prolific producer, the Elberta was first grown in 1870, by Samuel Rumph of Marshallville, Georgia. The fruit is usually around 3" long, and 2.5" wide, and is orange-yellow, with some red, when ripe. The peach is covered in coarse, dense fuzz, and the flesh is sweet, juicy, and slightly stringy. There are Elberta peaches in the Carrell and Max Krueger orchards.
Garnet Beauty:
A mutation from a Red Haven peach, the Garnet Beauty is red and almost fuzz-free when ripe. The fruit is medium to large, and is used for pies, preserves, canning, and freezing.
Garnet Beauties are in the Max Krueger Orchard.
J.H. Hale:
The J.H. Hale, named for the man who found it as a chance seedling, is very closely related to the Elberta peach, and sometimes it is hard to distinguish the two. J.H. Hales are usually larger and more spherical than the Elberta, and a lemon yellow color, with a dark red blush, and splashes of carmine. These peaches are slightly fuzzy, and the skin doesn't separate as easily from the flesh, and are planted in the Max Krueger and Carrell orchards.
Red Haven:
An early red peach, the Red Haven was developed in Michigan in 1940. The medium-sized Red Haven is bright red all over, and doesn't have any fuzz on it. Its flesh is yellow, and well suited for desserts, canning, and freezing. Red Havens grow in the Max Krueger Orchard.
Rosa (or Roza):
A large, red blush peach, with firm, yellow, flavorful flesh. The Rosa is popular for home use, because it tastes so good, but is harder to ship to markets.
Rosa peaches are the majority of peaches in the Max Krueger Orchard.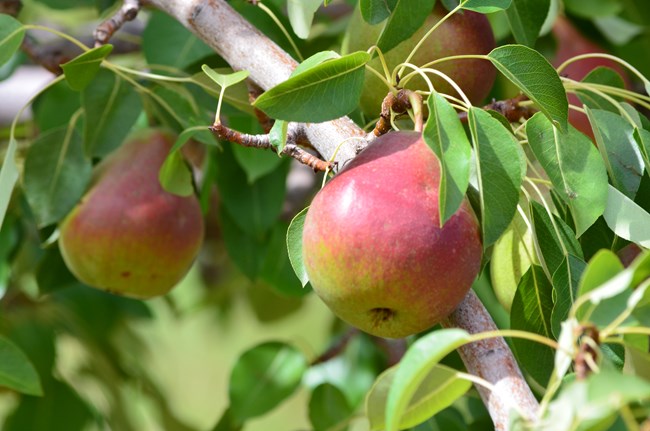 There are two types of pears. Asian pears have a crisp flesh and ripen on the tree; no Asian pears are planted in Capitol Reef orchards. European pears are soft-fleshed, and need to ripen up to a week on the counter. Capitol Reef has European pear varieties. To determine if the pear is mature and ready to pick, take the pear and gently move it to a horizontal position. If the stem breaks, it is ready to pick and ripen off the tree. If the stem does not break, it is not ready to pick.

Bartlett: The Bartlett pear was brought to the United States in the late 1700s from England, and has been popular ever since. This large pear turns from pale green to clear yellow, with a faint red blush as it ripens. Often there are small green or russet dots on the skin. Ripe Bartlett pears can taste buttery, juicy, vinous, and aromatic, but the pears are often picked before these qualities become apparent. Bartletts grow in the Behunin, Chesnut, Holt, Merin Smith, Mott, Nels Johnson orchards, and 'Tine Oyler Place.

Flemish Beauty: A large, fairly round pear, with a yellow color, and marbled red blush over it that has an amazing flavor and fragrance. To achieve the best flavor, pick the Flemish Beauty as they reach their largest size (2.74 inches long, 2.5 inches wide) and let them ripen, wrapped in paper, in a cold place. Flemish Beauties are planted in the Gifford, Holt, Jackson, and Nels Johnson orchards.

Winter Bartlett: Winter Bartletts are harvested later than most pears, and fully ripen off the tree, in December and January. Two trees in the Cook Orchard might be Winter Bartlett pears.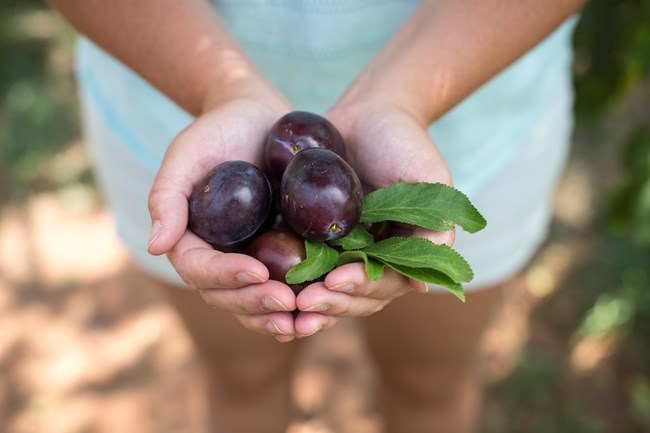 Dried plums are called prunes, but not all plum fruit makes good prunes.

Duarte: A heart-shaped, red Japanese plum that is known for its sweet and tart taste. These are short-lived trees, and one is planted in the Mott Orchard.

Italian Prune: A very popular plum that originated in Italy, the Italian Prune can be enjoyed fresh, stewed, or cured as a prune. When ripe, these plums are about two inches long, and an inch and a half wide, and very dark purple-black, with yellow flesh. Italian Prunes are in the Max Krueger and Nels Johnson orchards.

Potawatomi: Native to the Midwest, the Potawatomi plum probably spread to Utah thanks to early explorers, pioneers, and/or miners. These plums are very winter tolerant and hardy, and taste sweet. There are a few Potawatomi plums in the Adams, Behunin, and Holt orchards. Look for a yellow plum with a reddish blush.

Santa Rosa: Developed in 1906 from Japanese plums, the Santa Rosa is a large plum known for good flavor, whether eaten fresh or canned. Look for a Santa Rosa in the Mott Orchard.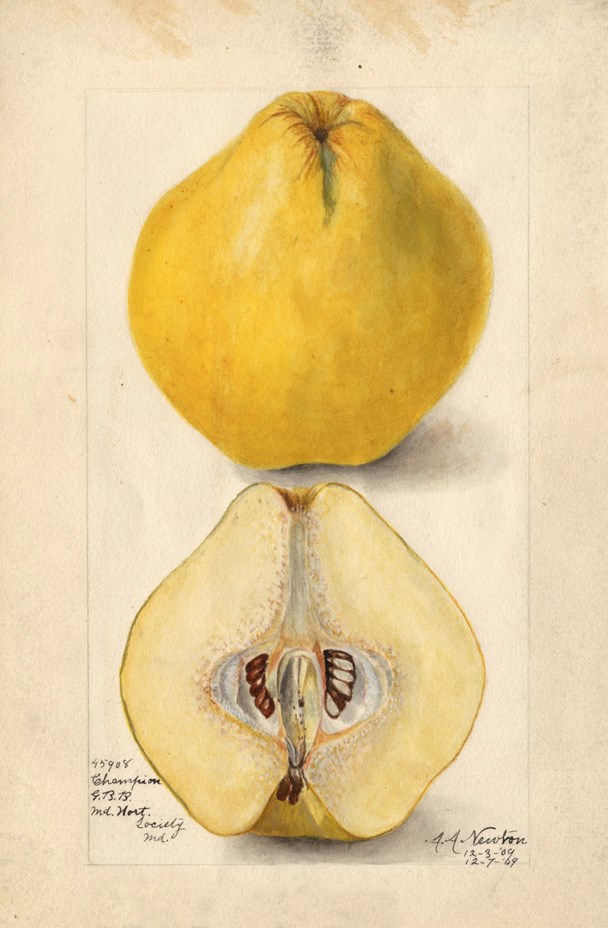 Quince
An ancient fruit, the quince appears in early Greek literature, and is still cultivated around the world today.

Champion: This quince is often used to make marmalade, and the origin of that word is from the Portuguese word that means quince jam (marmelo). The fruit's shape is between an apple and a pear, and tastes somewhat astringent and sweet, when eaten raw. The quince is very suitable for cooking. Champion quince trees are in the Nels Johnson Orchard.
Glossary and References
Blush: Reddish color on fruit.
Carmine: Vivid crimson color.
Cheek: Sides of the fruit.
Clingstone: Ripe flesh of fruit "clings" or is attached to the stone (pit/seed) of the fruit.
Freestone: Ripe flesh of fruit easily separates from the stone (pit/seed) of the fruit.
Shoulder: Top third of the fruit.

Information derived from: "Capitol Reef National Park, List of Fruit and Nut Varieties, Including Heirlooms." Prepared for the National Park Service through the Colorado Plateau Cooperative Ecosystems Studies Unit by Kanin Routson and Gary Paul Nabhan, Center for Sustainable Environments, Northern Arizona University, Flagstaff, Arizona.

Also available as a downloadable pdf.