Four-Wheel-Drive Roads in The Needles
Visit our keyboard shortcuts docs for details
Duration:

9 minutes, 24 seconds
This film will help you prepare for your backcountry technical four wheel drive trip at Canyonlands National Park. Helpful tips and advice provided in this video will help you plan your trip and Leave No Trace while out in these pristine areas.
About 50 miles of challenging backcountry roads lead to campsites, trailheads, and many natural and cultural features. All of these roads require high-clearance, low range four-wheel-drive vehicles. Inexperienced drivers should not attempt these roads. There is a high risk of vehicle damage, and towing costs usually exceed $1,500.
If you plan to explore The Needles' four-wheel-drive roads, remember:
You must have a high-clearance, low range four-wheel-drive vehicle for all Needles backcountry roads.
All vehicles, bikes, and e-bikes must remain on designated roads.
Vehicles (or a combination of vehicles and trailers) that exceed 21 feet in overall length are prohibited from traveling on Elephant Hill Access Road and the Elephant Hill road system at The Needles.
ATVs, UTVs, and OHVs are not permitted. Motorbikes must be equipped and licensed for interstate travel.
Pets are not permitted, even in vehicles.
All vehicles must be registered and operated by a licensed driver.
Poor driving conditions and flooding may make roads impassable. Read more about Road Conditions
Permits
You must have a day-use permit for all single day trips on Elephant Hill, Salt Creek (Peekaboo)/Horse Canyon, and Lavender Canyon roads.
You must have an overnight permit for all overnight trips in the backcountry.
In spring and fall, demand for overnight permits frequently exceeds the number available. If you plan to visit Canyonlands during peak season, we recommend that you make reservations well in advance.
Backcountry Vehicle Campsites
Each campsite will accommodate up to 10 people and 3 vehicles. Trailers and motorcycles are considered vehicles for these group size limits. Vault toilets are provided, except at New Bates Wilson and Peekaboo where groups must provide their own.
Campsite

4WD Road Access

Driving Time
(from visitor center)
Number of Sites
Peekaboo
Salt Creek/Horse Canyon Road
45 minutes
2
Devils Kitchen
Elephant Hill Road
2 hours
4
New Bates Wilson
Elephant Hill Road
2.5 hours
1
Bobby Jo
Elephant Hill Road
3 hours
2
Horsehoof
Elephant Hill Road
3 hours
1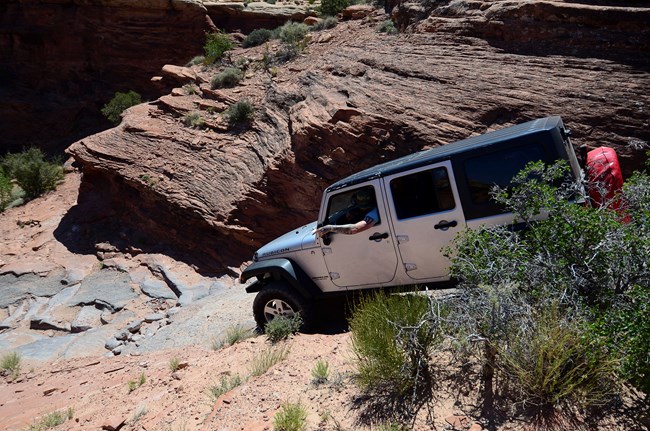 Elephant Hill
One of the most technical four-wheel-drive roads in Utah, Elephant Hill presents drivers and mountain bikers with steep grades, loose rock, stair-step drops, tight turns, and tricky backing. Once over the hill, equally challenging roads lead to various features as well as BLM lands south of the park. Maximum vehicle length, including racks and trailers, is 21 feet. There is no water at any of the campsites, but there are primitive toilets at all camping areas except New Bates Wilson. Groups camping at New Bates Wilson must bring their own toilet.
Colorado River Overlook
This moderate road is good for mountain bikes. You can avoid the large rocks and stair-step drops in the last 1.5 miles by parking on the road and walking to the overlook. (Be sure to leave room for other vehicles to pass.) There are outstanding views of the Colorado River canyon. This is an unprotected overlook; use caution. No vehicle camping.
Salt Creek (Peekaboo)/Horse Canyon
This road is often impassible due to deep sand, deep water, and quicksand. The road is too sandy for mountain bikes. There are vehicle campsites at Peekaboo with prehistoric rock art nearby. Vehicles may not drive upstream of Peekaboo in Salt Creek Canyon. Horse Canyon road leads to several arches and Tower Ruin.
Lavender Canyon
The road follows a canyon bottom where deep sand, deep water, and quicksand are common. The road is too sandy for most mountain bikes. There are two major creek crossings with steep banks. You may see many arches and archeological sites from the road. No vehicle camping inside the park.
Last updated: August 15, 2023