Alerts & Conditions
Phased Increase in Recreational Access
The National Park Service (NPS) is working servicewide with federal, state, and local public health authorities to closely monitor the COVID-19 pandemic and using a phased approach to increase access on a park-by-park basis. Per the news release issued May 11, 2020, starting May 29th the park will resume allowing access to:
All Canyonlands' roads, trails, and restrooms,
Commercial services previously permitted.
Backcountry and river permits are now being issued for trips starting on or after May 30th. Permits may be obtained online only; permits will not be issued at park visitor centers. Overnight permits must be requested at least five days before trip start date. Day use permits may be obtained up to 24 hours in advance of trip start.

The following park areas will remain closed until further notice:
Island in the Sky Visitor Center, The Needles Visitor Center, and Hans Flat Ranger Station, and the park stores operated by Canyonlands Natural History Association
Campgrounds at Island in the Sky and The Needles. (Visitors with camping reservations impacted by this closure may cancel or reschedule online at www.Recreation.gov, or by calling (877) 444-6777.)
The NPS encourages people to take advantage of the many digital tools already available to explore these parks, including:
Even after the areas listed above are accessible for visitors to enjoy, a return to full operations will continue to be phased, and services may be limited. When recreating, please follow local area health orders, practice Leave No Trace principles, and avoid crowding and high-risk outdoor activities.
The CDC has offered guidance to help people recreating in parks and open spaces prevent the spread of infectious diseases. We will continue to monitor all park functions to ensure that visitors adhere to CDC guidance for mitigating risks associated with the transmission of COVID-19 and take any additional steps necessary to protect public health.
Follow this web page for the latest public health updates from the National Park Service: https://www.nps.gov/aboutus/news/public-health-update.htm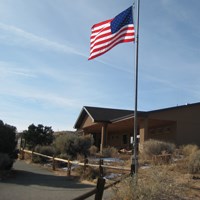 Canyonlands National Park is Currently Closed
The park is generally open year-round, 24 hours a day.
Each district of Canyonlands has its own visitor center or ranger station. Hours vary by season.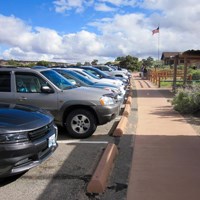 Traffic
Between March and October, particularly on busy holiday weekends, you may experience long lines at the entrance road, and parking lots at popular trailheads and viewpoints are often full.
The following holidays and weekends are especially busy:
The weeks surrounding Easter (Dates vary. In 2020: April 5-19),
Memorial Day (last Monday in May),
Labor Day (first Monday in September),
Utah Education Association break (Dates vary. Usually third weekend in October)
Check traffic conditions outside the park on the Utah Department of Transportation Traffic Site.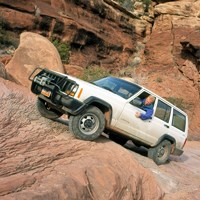 Road Conditions
Four-wheel-drive roads in Canyonlands range in difficulty from intermediate to extremely technical.
Rain and snow can quickly change unpaved roads to four-wheel-drive condition or make them impassable. Check current road conditions.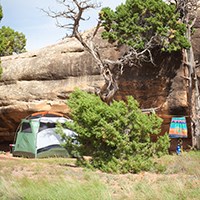 Camping
Developed campgrounds at Island in the Sky and The Needles are open year-round. Sites at Island in the Sky are first-come, first-served. Some sites at The Needles are available for reservation. During spring and fall, the campgrounds usually fill early. Read more about camping in and around Canyonlands.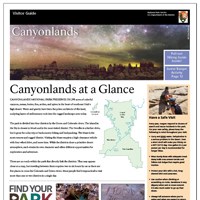 Park News
Looking for more information about what is happening at Canyonlands? Check out our latest News Releases, read the latest issue of the Visitor Guide, or connect with us through social media. We're on Facebook, Twitter, YouTube, and Flickr.
Last updated: May 12, 2020