Four-Wheel-Drive Roads in the Maze
Visit our keyboard shortcuts docs for details
Duration:

9 minutes, 24 seconds
This film will help you prepare for your backcountry technical four wheel drive trip at Canyonlands National Park. Helpful tips and advice provided in this video will help you plan your trip and Leave No Trace while out in these pristine areas.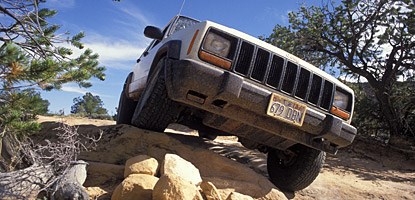 Four-wheel-drive roads in The Maze are extremely remote, very difficult, present considerable risk of vehicle damage, and should not be attempted by inexperienced drivers.
Things to know
Four-wheel-drive vehicles, motorbikes, and bicycles are allowed in The Maze.
Your vehicle must have high-clearance, four-wheel drive (low range) in The Maze.
ATVs, UTVs, and OHVs are prohibited.
We do not recommend trailers due to the severity of the road and the likelihood of damage to trailers and park resources.
Vehicles (or a combination of vehicles and trailers) that exceed 21 feet in overall length are prohibited from traveling on Teapot Rock four-wheel-drive road north of the Teapot Rock campsite in The Maze District.
All vehicles, bikes, and e-bikes must remain on designated roads.
All vehicles and motorcycles must be registered and operated by a licensed driver. Motorcycles must be equipped and licensed for interstate travel.
Pets are not permitted, even in vehicles.
Fires are not permitted.
Roads may close intermittently due to poor driving conditions or weather. Read more about road conditions.
Permits are required for all overnight trips in the backcountry.
Groups must provide their own cleanable, reusable toilet system.
The Flint Trail traverses slopes of clay that are extremely slippery when wet. The Flint Trail is often closed during winter. The road between Teapot Rock campsite and the Land of Standing Rocks is considered very difficult under any conditions and involves considerable risk of vehicle damage.
Be Prepared
Four-wheel drivers should be prepared to make basic road or vehicle repairs and should carry the following items:
At least one full-size spare tire
Extra gas
Extra water
Shovel
High-lift jack
Chains for all four tires (especially October through April)
Drive Carefully!
A high-clearance, low range, four-wheel-drive vehicle is required for all Maze backcountry roads. Towing charges are very expensive. Visitors caught in the backcountry with disabled vehicles can expect towing fees in excess of $1,500.
Vehicle Campsites
Permits are required for overnight trips. Four-wheel-drive vehicle and mountain bike groups stay in designated sites. Each campsite will accommodate up to 9 people and 3 vehicles. Flint Seep will accommodate groups of 16 people and 5 vehicles. Trailers and motorcycles are considered vehicles for these group size limits. Groups must provide their own cleanable, reusable toilet system. The sites do not have picnic tables or pit toilets.
| Campsite Name | Driving Time from Hans Flat | Number of Sites |
| --- | --- | --- |
| Chimney Rock | 5+ hours | 1 |
| Cleopatras Chair | 2 hours | 1 |
| Doll House | 6+ hours | 3 |
| Ekker Butte | 4+ hours | 1 |
| Flint Seep | 1 hour | 1 |
| Golden Stairs | 1.5 hours | 1 |
| Happy Canyon | 1 hour | 1 |
| High Spur | 45 minutes | 1 |
| Maze Overlook | 3+ hours | 2 |
| Millard Canyon | 6 hours | 1 |
| North Point | 30 minutes | 1 |
| Panorama Point | 2 hours | 1 |
| Standing Rock | 5 hours | 1 |
| Sunset Pass | 2.5 hours | 1 |
| Teapot Rock | 3 hours | 1 |
| The Neck | 1 hour | 1 |
| The Wall | 5 hours | 1 |
Last updated: September 14, 2023