Lightscape / Night Sky

Many wonders await visitors in Canyonlands, from the natural beauty of the red rock formations to the remains of prehistoric cultures. Archeologists think that the sun, moon and stars were significant to these cultures since these subjects are frequently represented in pottery designs, rock art images and even the alignment of buildings. Can you imagine the awe and mystery felt by prehistoric people as they gazed upon the night sky? That same sky is still available to us today, and is one of Canyonlands' most spectacular features.
A Dark Sky Park
National parks preserve some of the darkest skies in the country. In some areas, it's possible to see up to 15,000 stars throughout the night. By contrast, city dwellers may see fewer than 500 stars at night. Night skies at Canyonlands are so pristine that the International Dark Sky Association designated Canyonlands as a Gold-Tier International Dark Sky Park in 2015. Canyonlands is one of many parks in southern Utah with the International Dark Sky Park designation.
Visitors come from all over the world to attend night sky ranger programs and to experience the dark skies they never see at home. In many national parks these night sky programs are the most popular ranger-led activities.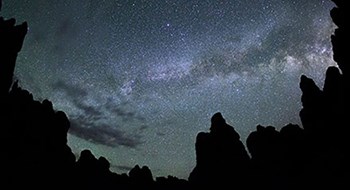 Saving the Dark
What many people don't realize is that light pollution affects more than just astronomers. Nocturnal animals need darkness for survival, and the circadian rhythms of humans and plants rely on an unaltered night sky.
The National Park Service created the Night Sky Team to find the darkest parks and document the widespread effects of light pollution. The Night Sky Team is laying the groundwork to protect and restore these dark places, ensuring our ability to connect with ancient sky watchers through the starry night and to contemplate our own place within the universe.
Efforts to preserve natural darkness at Canyonlands began several years ago with a focused effort to revamp and replace park lighting with "night-sky friendly" bulbs and fixtures. Though thousands of lights create light pollution, this problem can be resolved one light at a time. When an outdoor light burns out, it becomes an opportunity to install a lower intensity bulb or replace the fixture with one that is more night-friendly. Shielding that directs light downward produces less glare and improves security. Today nearly 100 percent of the lights in Canyonlands National Park are "night-sky friendly." As long as people still care about the night sky, we can make a difference.
A Growing Cooperative of Dark Sky Protection
Canyonlands also is a member of the growing Colorado Plateau Dark Sky Cooperative. Established in 2012, America's first Dark Sky Cooperative links communities, tribes, businesses, state agencies, federal agencies, and citizens to celebrate the view of the night sky, minimize the impact of outdoor lighting, and ultimately restore natural darkness to the area. The Dark Sky Cooperative encourages community-based, landscape-scale approaches to conservation to solve today's land management challenges.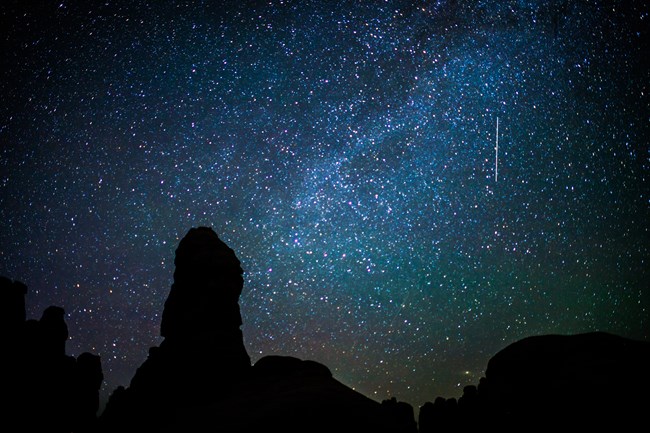 Night Photography
You can help preserve our night skies too! Night photography is not only a great way to enjoy the park after dark, it's also an opportunity to help cut down on light pollution. When photographing, do not use artificial light sources to light up landscapes, rock formations, or other park features. Artificial light sources may be used for personal route-finding or minimum impact camping only.
More from other national parks


Last updated: July 21, 2020