Nature

Canyonlands National Park preserves one of the last relatively-undisturbed areas of the Colorado Plateau, a geological province that encompasses much of the Colorado River and its tributaries. Carved out of vast sedimentary rock deposits, this landscape of canyons, mesas, and deep river gorges possesses remarkable natural features that are part of a unique desert ecosystem.
The foundation of Canyonlands' desert ecology is its remarkable geology, which is visible everywhere in rocky cliffs that reveal millions of years of deposition and erosion. These rock layers continue to shape life in Canyonlands today, as patterns of erosion influence soil chemistry and where water flows when it rains.
Known as a "high desert," with elevations ranging from 3,700 to 7,200 feet above sea level, Canyonlands experiences very hot summers and cold winters, and receives less than ten inches of rain each year. Even on a daily basis, temperatures may fluctuate as much as 50 degrees.
This dynamic landscape is surprisingly filled with life, as stories of plant and animal survival play out day after day... and night after night. Naturally dark night skies are essential to both wildlife and human health. Scientists continually study these natural processes and environmental factors in the "outdoor laboratory" of the park.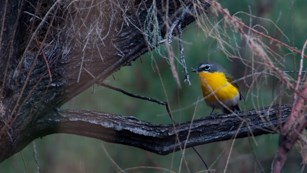 Explore Biodiversity
Have you ever taken a picture of a flower, or butterfly, or an unusual mushroom? You can also keep track of the biodiversity you see when you are in a national park, or where ever you go, with iNaturalist. Learn more about how you can help document the various life forms in our national parks. Explore Biodiversity.
Check out the Canyonlands iNaturalist project.


Last updated: December 13, 2018